Member Highlights: Laurel Public Library, Laurel, DE
Posted by Hannah Sinemus on March 28th, 2018 Posted in: Member Highlights

---
NNLM MAR is pleased to share successes of health outreach projects and activities in our region. Learn what your amazing colleagues are doing to increase access to quality health information for the communities they serve.
---
Nutritious, Quick, and FlavorFULL Cooking
This project began in 2014 in response to the high rates of obesity and obesity-related conditions in the Laurel community. The goal continues to be to reaching out to adults with these conditions, or those at risk, to engage and educate them on where and how to find reliable, accessible sources for their health information needs, as well as health information for caregivers. Additionally, the library wants to engage and inspire them in their quest for information, as well as in pursuit of healthy living, through easy, tasty recipes and food preparation techniques. The expectation is that with the knowledge and encouragement to secure reliable information resources, they will improve their quality of lives by eliminating obesity and consequently either eliminate or better manage obesity-related conditions.
To reach these goals, the Laurel Public Library created a three-session program with each session containing two parts. The first part of each session features Certified Executive Chef Carolyn "Bonnie" Aronson, teaching and demonstrating food preparation techniques through creating healthy, easy to prepare dishes. The dishes are easily replicated and employ techniques that chefs of any skill level can implement, with materials and equipment they already have or can easily purchase within their communities. She also provides hand-outs that provide tips for healthy cooking and ways to enhance flavor and make them healthier. All attendees are inspired, engaged, and motivated to cook and eat healthier.
The second part of each session features a degreed librarian – Medical Librarian Linda Leonard in 2014 and 2015, and Adult Services Librarian Gregg McCullough in 2017 – guiding attendees through using health information resources from the National Library of Medicine (NLM), and Delaware Libraries. Linda demonstrated MedlinePlus and NIHSeniorHealth as well as internet searching strategies. Gregg demonstrated MedlinePlus, Go4Life, Flipster, Universal Class, and MasterFile Premier. Some attendees had little or no computer experience before this program, so an unexpected result was teaching computer navigation and inspiring individuals how easy and beneficial computer use is. Each session included select, different resources from those mentioned.
The project had successes and obstacles. All attendees reported overwhelmingly positive feedback. Everyone learned new recipes and cooking techniques, and most reported they planned to implement what they learned for their diets and those of their families. Likewise, all attendees reported they learned at least one new health information resource. Several reported planning to use what they learned about health resources when looking for health information. While the library staff hoped that all attendees would plan to use at least one health information resource presented, they met their goal to connect individuals to reliable resources and build users' confidence in using computers to search for reliable information, and use online resources from NLM and Delaware Libraries. Additionally, individuals were motivated to use what they learned from Chef Bonnie to improve their diets, which in turn meets the library's goal of combating or treating obesity and related conditions. The first two years included Linda leading the sessions, with library director Wendy Roberts assisting participants. In 2017, Gregg was the sole presenter, and therefore gave the presentation and assisted attendees individually. In future, they feel it would be helpful to have a second person – either a staff member or volunteer – available to assist attendees with using resources. The library's outreach initiatives and partnerships continue to grow, so that the future publicity of this and other library events will reach wider audiences and increase engagement in library events. The library was very successful in reaching its goals for those who attended.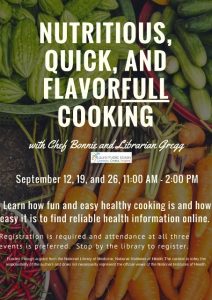 Each year, the library asked attendees to attend all three sessions. In 2017, those who attended did so, while in previous years not all attendees were able to attend all three sessions. Community feedback revealed that many were interested, but fewer registered because they were unable to commit to attending all three sessions. Those who registered for 2014 and 2015 attended at least one session but approximately half attended all three. This expectation was a barrier to individuals attending, so in future the library is looking to remove this expectation and offer attendees the choice of attending whatever session or sessions they wish. While attendance has been capped at 20 attendees in prior years, changing the attendance expectation can increase attendance so that up to 20 individuals can attend each session and if multiple sessions are held, as in past years, the numbers will be higher.
This project was funded by NNLM MAR. Additionally, Laurel Public Library's ongoing partnership with Certified Executive Chef Carolyn "Bonnie" Aronson made the food presentations possible, and partnerships with local organizations (businesses, churches, etc.) increased program publicity in the community.
Want to learn more about this and other programs at the Laurel Public Library? Visit the library's Adult Services webpage, or follow them on Facebook or Twitter. You can also contact Gregg McCullough, Adult Services Librarian, via email: gregg.mccullough@lib.de.us or telephone: (302) 875-3184.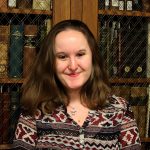 ABOUT Hannah Sinemus
Hannah Sinemus is the Web Experience Coordinator for the Middle Atlantic Region (MAR). Although she updates the MAR web pages, blog, newsletter and social media, Hannah is not the sole author of this content. If you have questions about a MARquee or MAReport posting, please contact the Middle Atlantic Region directly at nnlmmar@pitt.edu.
Email author View all posts by Hannah Sinemus