Five Ideas for Program Planning Using NIH MedlinePlus, the Magazine
Posted by Hannah Sinemus on June 21st, 2018 Posted in: The MAReport
Tags: 2018 Issue 2
---
Did You Know?
Michelle Burda, Education & Health Literacy Coordinator
NIH MedlinePlus, the magazine's purpose is to bring to the public the latest news about ongoing efforts to find better treatment and cures for diseases and conditions like cancer, stroke or traumatic stress. Articles on NIH-supported research, and from the scientists themselves, are written by professional journalists in an easy-to-read format explaining complex medical concepts and terms. All scientific and medical information is reviewed for accuracy by representatives of the National Institutes of Health. NIH MedlinePlus magazine is produced by NIH, the National Library of Medicine, and the Friends of the National Library of Medicine (FNLM).
Published quarterly, NIH MedlinePlus magazine can be more than a wealth of health information. This publication can serve as a source for outreach programming ideas for all audiences and age groups in your library, organization or institution. Here are 5 ideas for program planning.
Each issue usually features celebrities or people from all walks of life who talk about the health challenges they faced and how they dealt with these challenges. Why not take a topic like caregiving, featured in the Spring 2018 issue, and develop a library program? Start a group discussion using the experiences shared by Leeza Gibbons, TV host and author. Invite someone from the community, a social worker from your local hospital or a nurse administrator from a personal care home to talk about what it means to be a caregiver and how to find support if needed.
For middle and high school students, take the celebrities that were on the covers of MedlinePlus and have them match the faces to their disease or condition. Next, have the students read the article and research the condition or disease using MedlinePlus and another resource of their choice. They can report on what they found and compare and evaluate the reliability and credibility of the two sources of information.

Create a program on pet health. Use the article from Spring 2018, Ruff! Are Pets Good for our Health as a starting point for content. Search MedlinePlus to further explore the topic of pet health. Invite a local veterinarian or service dog owner or trainer to speak to your group. Include information on the importance of taking care of one's own health. Healthy owner, healthy pet. Think about targeting specific audiences when promoting the program; veteran's, people who live alone, or older adults.
Form a MedlinePlus magazine "journal club". Promote a quarterly discussion of the magazine's content upon publication as one of your outreach programs/event for the year. You can have the group choose a topic, or you choose and prepare in advance a topic from the current issue that highlights your organization's services or the support offered in your community and local area. For example, you can discuss traumatic stress as your topic. What services or support is offered for PTSD in your community? Who do they contact for help coping?
For health sciences libraries, find a MedlinePlus magazine article such as 10 NIH Research Highlights or Brain Scan Technology Extends Treatment Window for Stroke that is relevant to services, programs or research at your healthcare organization. Feature the article in your healthcare organization's electronic newsletter for employees or consumers or on your library's website. NIH MedlinePlus articles are good examples of how to communicate health information to the public while raising your healthcare teams' awareness of the importance of considering health literacy when talking to patients.
I hope this article has inspired you to look at the current and past issues of NIH MedlinePlus magazine to create interesting and relevant programing to meet your community, library or organization's needs.
Subscribe to NIH MedlinePlus Magazine (single or bulk) or email alerts to the online version of the MedlinePlus magazine. Please contact Michelle Burda, NNLM MAR Education & Health Literacy Coordinator if you have any questions about the content of this article: mburda@pitt.edu.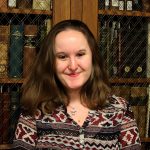 ABOUT Hannah Sinemus
Hannah Sinemus is the Web Experience Coordinator for the Middle Atlantic Region (MAR). Although she updates the MAR web pages, blog, newsletter and social media, Hannah is not the sole author of this content. If you have questions about a MARquee or MAReport posting, please contact the Middle Atlantic Region directly at nnlmmar@pitt.edu.
Email author View all posts by Hannah Sinemus