MLA Symposium: Health Information for Public Libraries
Posted by Hannah Sinemus on June 21st, 2018 Posted in: The MAReport
Tags: 2018 Issue 2
---
All of Us Updates
Veronica Leigh Milliner, All of Us Community Engagement Coordinator
This May, public library staff convened at the Medical Library Association Conference in Atlanta, Georgia. This gathering was special because it marked the first MLA Symposium for Public Libraries which brought together public library and medical library professionals to collaborate and share ideas of providing health information at their institutions. The symposium was a collaboration between the Medical Library Association, Public Library Association, and the National Network of Libraries of Medicine.
Public library staff who are leaders in their institutions applied to attend and learn more about consumer health information services, resources available through the National Network of Libraries of Medicine (NNLM), and to share ideas with others on how to improve health information access and knowledge for their patrons. The symposium was a day and a half professional development opportunity for public libraries to further explore their important role in improving health literacy. Attendees were also able to learn about the National Institute of Health's All of Us Research Program, precision medicine, and the role of public libraries in the community engagement and education aspect of the program. The NNLM, Middle Atlantic Region was very excited to have 24 public library staff from our region attend this symposium.
The day kicked off with a welcome breakfast with opening remarks by MLA President Barbara Epstein and the Director of the National Library of Medicine, Patricia Brennan. As an introduction to the day, attendees got to hear from Scott Allen the Deputy Director of the Public Library Association (PLA) and Elizabeth Kiscaden of the NNLM, Greater Midwest Region who discussed the value of providing health information in public libraries and the partnership between NNLM and PLA to support public library staff in these ongoing efforts. They also discussed the Libraries Transform Health Literacy Toolkit, other NLM resources available for libraries, and the Consumer Health Information Specialization sponsorship available for continued professional development.
The symposium also included program examples from several public libraries who are working on innovative and effective ways to reach out to their communities with health information. Some general themes and takeaways for community outreach included not assuming anyone's health literacy abilities, and to be present and an active listener when providing health information, as it may be sensitive for some individuals. The sentiment of the need for librarians to be willing to learn alongside those they are helping also connected with the audiences and was a repeated idea throughout the day.
There were also several presentations on the All of Us Research Program. The symposium highlighted the partnership of NNLM with the All of Us Research Program to work with public libraries in supporting the health information needs of their patrons and community engagement and awareness of the program. Dr. Mylynda Massart, Family Medicine physician and Medical Director at UPMC Matilda Theiss Family Health Center and co-investigator for All of Us Pennsylvania, gave a talk entitled "Overcoming Barriers and Challenges in understanding the All of Us Research Program." Participants created a brainstorming word cloud on why and how libraries are able to engage with All of Us. On the second day of the symposium, Dara Richardson-Heron, the Chief Engagement Officer for the All of Us Research Program was a plenary speaker along with former United States Surgeon General David Satcher. The plenary keynotes provided an informative and spirited farewell to the symposium as they discussed the All of Us program, health disparities, the need for diversity in medical research, and social justice.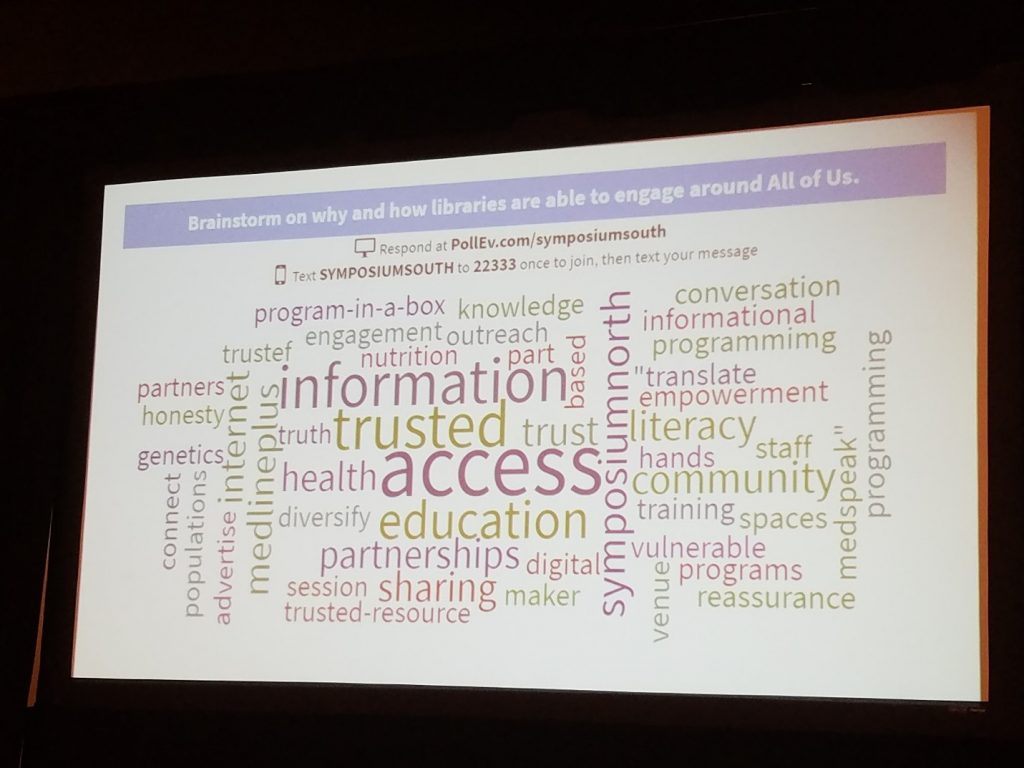 This symposium was an important event because it put the role of public libraries in providing quality health information and resources to the public front and center. Libraries not only have the power to support health literacy, but also to support other aspects which can greatly affect individuals' ability to access and understand information like digital literacy, access to technology, and providing a space for people to share stories and connect with health resources in a supportive community setting.
We hope to continue our work with public libraries on their great initiatives of providing health information to the public and improving their communities. If your public library would like to discuss how to get involved, please contact me at VLM38@pitt.edu.
Did you miss Dr. Massart's talk at MLA? On July 27 at 1pm ET, NNLM MAR will host a webinar with her on the same topic. Register for the session to join us and engage in this important conversation about All of Us.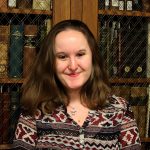 ABOUT Hannah Sinemus
Hannah Sinemus is the Web Experience Coordinator for the Middle Atlantic Region (MAR). Although she updates the MAR web pages, blog, newsletter and social media, Hannah is not the sole author of this content. If you have questions about a MARquee or MAReport posting, please contact the Middle Atlantic Region directly at nnlmmar@pitt.edu.
Email author View all posts by Hannah Sinemus