Call for Volunteers: NNLM Wikipedia Edit-a-thon
Posted by Hannah Sinemus on September 27th, 2018 Posted in: Consumer Health, Education, Open Access, Outreach, Public Health

---
In April of this year, the National Network of Libraries of Medicine hosted a Wikipedia Edit-a-thon to add citations to Wikipedia articles on rare diseases, using trusted National Library of Medicine resources like Genetics Home Reference, MedlinePlus, PubMed, and the NIH resource Genetic and Rare Diseases Information Center.
Are you interested in improving the health information available on Wikipedia? Do you want to utilize your librarian research skills towards making Wikipedia a better, evidence-based resource? Have you always wanted to participate in an edit-a-thon? Good news! You can Join NNLM for another Wikipedia Edit-a-thon, this time focusing on trusted resources for women's health information.
We're working hard to make our Fall edit-a-thon even more of a success than the April event! To achieve this goal, we are inviting more librarians to join our #citeNLM2018 Wikipedia Help Team. Volunteers are needed for each 1-hour shift, from 10:00 AM-8:00 PM ET on November 7, 2018.
You can sign up to provide virtual support to participants by contacting the RML staff listed in the Schedule Table from our project page. Register and plan to attend our upcoming training sessions, to prepare for the event:
Session 1, October 3: This introductory session will provide an overview on the importance of Wikipedia for librarians, and will outline upcoming training opportunities, as well as give information about the Edit-a-thon. Hosted by Elaina Vitale (MAR) and Ann Glusker (PNR).
Session 2, October 17: In this session, learn how to be prepared by creating a Wikipedia account, editing articles on medical topics, and getting ready for the event day. Hosted by Alicia Lillich (MCR) and Aimee Gogan (SEA).
Session 3, October 31: The final session will provide a highlight of women's health resources from the National Library of Medicine, including how to identify and evaluate pertinent information resources for possible use during the edit-a-thon. Hosted by Karen Coghlan (NER) and Erin Latta (NDCO).
We look forward to your help!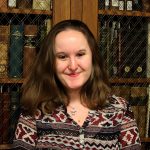 ABOUT Hannah Sinemus
Hannah Sinemus is the Web Experience Coordinator for the Middle Atlantic Region (MAR). Although she updates the MAR web pages, blog, newsletter and social media, Hannah is not the sole author of this content. If you have questions about a MARquee or MAReport posting, please contact the Middle Atlantic Region directly at nnlmmar@pitt.edu.
Email author View all posts by Hannah Sinemus