Member Spotlight: Deena Caswell, MSLIS
Posted by Hannah Sinemus on September 28th, 2018 Posted in: The MAReport
Tags: 2018 Issue 3
---
I always knew I wanted to be a librarian.
Growing up, I was the stereotypical "indoor kid," and my hometown library in West Deptford, NJ was my favorite place to be. I would spend hours there on a Saturday, reading Encyclopedia Brown in the children's section before wandering over to look at V.C. Andrews paperbacks, and always left with a pile of books in my arms. Later, I became a dedicated summer volunteer, relishing the opportunity to work with my beloved children's librarian, Mrs. Marie Downes. As I moved through college, the idea of pursuing a career as a librarian fell by the wayside. After graduating from Smith College in 2004 with a BA in Government, I bounced around New England and the Mid Atlantic, eventually landing close to home, in Philadelphia, working at the University of Pennsylvania. I enjoyed my work as a program coordinator and special events manager at Wharton Executive Education, and as the inaugural administrative coordinator for the Field Center for Children's Policy, Practice, and Research at the School of Social Policy and Practice. After five years working in higher education, I felt like I was hitting a ceiling. As I cast about for next steps, a friend from Smith said that she knew just what I should do. I was curious and delighted! "You should go back and get your library degree," she said confidently. How did she know?? "You've only mentioned it a few times a year ever since we graduated. I have the receipts in our emails."
Ever the Philadelphia loyalist, and armed with the wisdom of my past self, I returned to school, receiving my MSLIS from Drexel University in spring 2013. Through my coursework, I knew that I wanted to work in public libraries, and I was drawn to research work involving the LGBTQ community: preservation, oral histories, resources, and bibliographies. After graduation, I took a part time job as a library assistant in the Youth Services department of Cherry Hill Public Library (CHPL), a busy and vibrant municipal library approximately eight miles east of Philadelphia. In in fall 2014, I was hired for a newly created Outreach Librarian position. I loved the idea of bringing our library into our community, finding ways to let people know about the important and evolving role of modern libraries, and creating and strengthening partnerships with our township government, school district, small businesses, and local nonprofits.
I also wanted to continue some of the work I began at Drexel. I knew that CHPL had LGBTQ books and resources for all ages, but it wasn't a topic touched on in our programming. In June 2015, LGBTQ Pride Month, I launched "Pride at the Library," a program series highlighting local organizations and speakers, like PFLAG Collingswood and the Trans Oral History Project, and screening LGBTQ movies and documentaries. I felt strongly that, as this was a topic that was becoming increasingly prevalent in media and politics, libraries were a perfect venue to provide factual information, resources, and a place for civil conversation. The series has grown more popular each year, and has featured book club discussions, workshops from Garden State Equality and the Mazzoni Center, and Drag Queen Story Time.
With my work in creating Pride at the Library, and expanding our library's outreach initiatives, I was named a 2016 Rising Star by the New Jersey Library Association, where I also serve as a Member-at-Large for the Diversity and Outreach section. In September 2017, I was promoted to CHPL's Supervisor of Outreach and Diversity. In this role, I manage and direct all outreach initiatives for the library, supervise our federal work study students, and craft programming and outreach to underrepresented and underserved communities.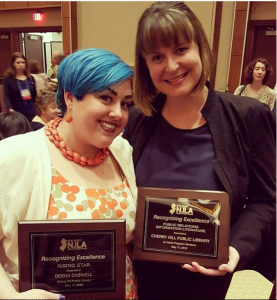 I became familiar with the work of NNLM MAR through its professional development opportunities, participating in several webinars, as well as attending sessions led by NNLM members at regional conferences. I connected more directly with NNLM through Elaina Vitale, who saw my presentation on LGBTQ programming and resources at the 2018 Urban Libraries Unite conference. This led to me conducting a NNLM webinar, "Pride at the Library: LGBTQ Programming for All Ages" during Pride Month in June 2018, and CHPL officially joining NNLM MAR. As engaged public librarians, the CHPL staff was eager to take advantage of the resources and professional development offered by our RML.
Now more than ever, the public is looking for places to access reliable information on a diversity of topics, to gather with their community, and to learn. I believe strongly that libraries are those venues. I am so glad to have my library as part of NNLM MAR, providing training to our librarians and accurate health information to our patrons.
---
Written by Deena Caswell, Supervisor of Outreach and Diversity at the Cherry Hill Public Library in Cherry Hill, NJ, for the Summer/Fall 2018 edition of The MAReport quarterly newsletter.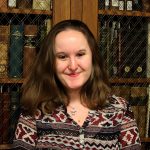 ABOUT Hannah Sinemus
Hannah Sinemus is the Web Experience Coordinator for the Middle Atlantic Region (MAR). Although she updates the MAR web pages, blog, newsletter and social media, Hannah is not the sole author of this content. If you have questions about a MARquee or MAReport posting, please contact the Middle Atlantic Region directly at nnlmmar@pitt.edu.
Email author View all posts by Hannah Sinemus