PubMed Labs: getting ready for PubMed 2.0!
Posted by Hannah Sinemus on September 28th, 2018 Posted in: The MAReport
Tags: 2018 Issue 3
---
Have you noticed any changes lately while using PubMed? The National Library of Medicine's enormous biomedical citation resource (28 million citations and growing daily!) is undergoing redesigns to make PubMed a sleeker resource to use. These upcoming changes are all about enhancing your experience as a user—a tall order for a resource that is the starting point for so much of the world's biomedical research.
PubMed 2.0, scheduled for release in December 2018*, promises to enhance the resource we already know and love. Before that happens, you have a chance to contribute your feedback and thoughts on some of the features already in testing for PubMed 2.0. Explore these experimental features at PubMed Labs. Some of what you see here might become part of PubMed 2.0!
What's on deck right now at PubMed Labs and what might you expect from PubMed 2.0? You may have already noticed your search results in PubMed look a little different—instead of the default display of most recent results, you can opt to select "best match" sort order. Behind best match is a sophisticated algorithm that picks the best matching results for you. The image below shows how the best match algorithm displays (A), and shows how best match reflects in the MeSH translation table (B). Read more about the best match algorithm in the NLM Technical Bulletin (image below taken from the NLM Technical Bulletin).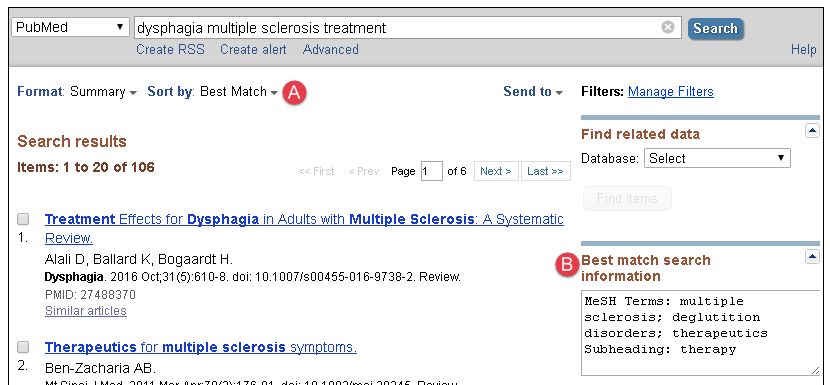 What else can you expect to demo in PubMed Labs? After searching terms, you're able to see snippets, or abstract highlights relevant to your search terms (pictured below). You can also select date ranges using the highlighted date box below.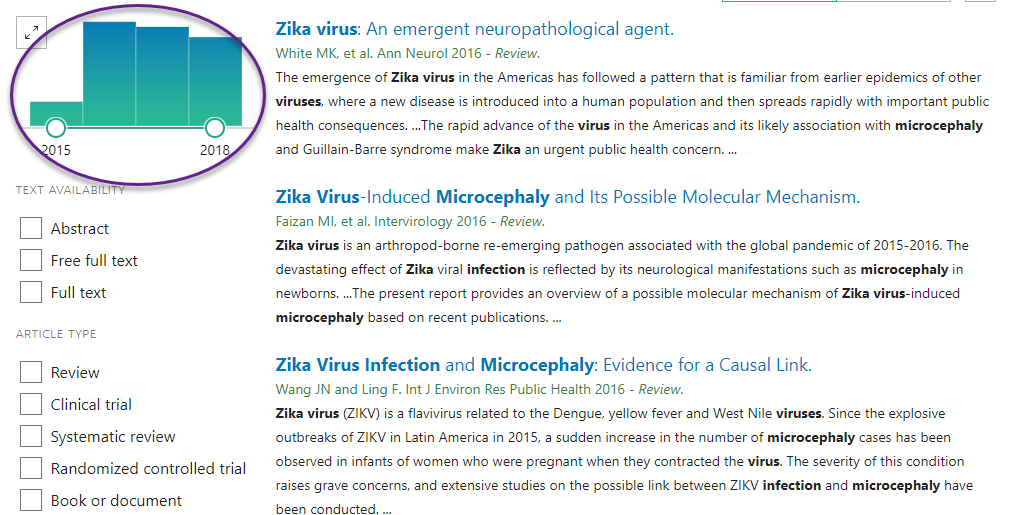 Do you ever search PubMed using your mobile phone? Be sure to try PubMed Labs on your phone to see the clean mobile interface. Articles are easier to search for and read on your phone using PubMed Labs.
After trying PubMed Labs, leave feedback! There is a big green feedback button on every page—you can help shape the way PubMed 2.0 looks. MAR plans to hold a webinar in December* to share some of the PubMed 2.0 changes—the webinar will be announced on our course schedule and in Weekly Postings.
For more information about PubMed Labs and to learn more about the schedule for the PubMed 2.0 release, watch Kathi Canese's NLM Theater Presentation from the 2018 Medical Library Association meeting.
*Post-publication update: The initial release of the new PubMed will not happen until early in 2019.  Both systems will be running in parallel for some time.
---
Written by Elaina Vitale, Academic Coordinator, for the Summer/Fall 2018 edition of The MAReport quarterly newsletter.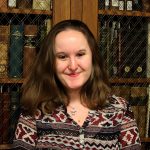 ABOUT Hannah Sinemus
Hannah Sinemus is the Web Experience Coordinator for the Middle Atlantic Region (MAR). Although she updates the MAR web pages, blog, newsletter and social media, Hannah is not the sole author of this content. If you have questions about a MARquee or MAReport posting, please contact the Middle Atlantic Region directly at nnlmmar@pitt.edu.
Email author View all posts by Hannah Sinemus