It's National Influenza Vaccination Week!
Posted by Hannah Sinemus on December 4th, 2018 Posted in: Consumer Health, Health Professionals, K-12, Outreach, Public Health

---
National Influenza Vaccination Week (NIVW), December 2-8, 2018, is a national awareness campaign focused on highlighting the importance of influenza vaccination. The Centers for Disease Control (CDC) established NIVW in 2005 to highlight the importance of continuing flu vaccination through the holiday season and beyond.
Why December? Flu vaccination coverage estimates from past seasons have shown that few people get vaccinated against influenza after the end of November.
Flu isn't a "bad cold" and can result in serious health problems (complications), such as pneumonia, bacterial infections, or hospitalizations. Flu can sometimes even lead to death. During the 2017-2018 flu season, CDC estimates flu caused:
49 million flu illnesses – more than the combined populations of Texas and Florida
960,000 flu hospitalizations – more than the number of staffed hospital beds in the United States
79,000 deaths – more than the average number of people who attend the Super Bowl each year
Flu vaccination can keep you from getting sick with flu. During the 2016-2017 flu season, flu vaccine prevented an estimated:
5.3 million flu illnesses – about the population of the Atlanta metropolitan area
2.6 million flu medical visits – more than the number of students in all K-12 schools in Florida
85,000 flu hospitalizations – more than the number of hospital beds in California and Oregon
What can you do at your institution or in your community to support NIVW?
Utilize the CDC's 2018 NIVW Digital Media Toolkit to encourage your colleagues, patrons and community members to protect themselves this season. This toolkit includes upcoming events and activities, and communication materials such as sample messages to use in your newsletters, social media, and print-outs to post on your bulletin boards or other information spaces.
Share the latest flu videos from the CDC – all of these are around 1 minute, so they are perfect to incorporate into other programs, or just to share on your institution's webpage!
Share resources from MedlinePlus – The National Library of Medicine's consumer health information website provides topical health information for immunization, flu and flu shots – in multiple languages!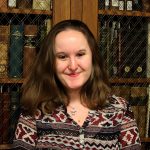 ABOUT Hannah Sinemus
Hannah Sinemus is the Web Experience Coordinator for the Middle Atlantic Region (MAR). Although she updates the MAR web pages, blog, newsletter and social media, Hannah is not the sole author of this content. If you have questions about a MARquee or MAReport posting, please contact the Middle Atlantic Region directly at nnlmmar@pitt.edu.
Email author View all posts by Hannah Sinemus