Going Mobile with Clinical eCompanion
Posted by Hannah Sinemus on February 11th, 2019 Posted in: The MAReport
Tags: 2019 Issue 1
---
Clinical eCompanion is a no-cost point of care resource for primary care providers and other clinicians who do not have access to subscription databases. Clinical eCompanion searches multiple National Library of Medicine resources including DailyMed, Pillbox, MedlinePlus, HealthReach, and PubMed. In addition, Clinical eCompanion links to other reliable sources of clinical information. One of these resources is the Drug Interaction Checker from Medscape, which allows a clinician to input the names of two or more medications and review information about possible interactions. Radiopaedia, an open source radiology resource is also included. This site contains radiology images of conditions from an acromioclavicular injury to Zinner syndrome. Clinical eCompanion also links to USPSTF Preventive Services Electronic Preventive Services Selector. This tool searches recommendations about screenings based on age, gender, and risk factors. It is important to note that while Clinical eCompanion links to a wealth of useful clinical resources, it is not making clinical recommendations. The information provided through Clinical e-Companion is for information purposes only and must be interpreted in view of all attendant circumstances, indications and contraindications. Specific medical advice is not provided.
Librarians at the University of Pittsburgh developed Clinical eCompanion from 2012-2015 with funding from the National Network of Libraries of Medicine, Middle Atlantic Region (NNLM MAR). The project development team conducted research to explore the feasibility, usability, and validity of the point-of-care information tool for use by primary care providers in answering real-time clinical questions. Participants found Clinical eCompanion to be current, relevant, and complete. In the last few months, the site has undergone some changes that we hope will make it more user friendly and increase its appeal to diverse audiences.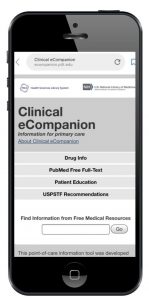 Recently, we have heard from our members that Clinical eCompanion may be useful to a wider variety of audiences than assumed. This resource was developed with primary care providers in mind, particularly those without access to costly subscription databases. However, we have heard that it may also interest home health nurses and EMTs. Because of this, we decided that Clinical eCompanion should be mobile friendly. The updates to make it easier to use on a smartphone or tablet went live in November. We hope that this will make Clinical eCompanion more useful to health professionals who may not always be at a computer.
We have also heard positive feedback from librarians who work with clinicians and want to spread the word. Because of this, we have created new training materials for those who want to offer training on the use of Clinical eCompanion. A new 20-minute instructional video is in the "About Clinical eCompanion" section of the site. It covers the main features of clinical eCompanion, including search examples. NNLM MAR members can order Clinical eCompanion brochures from our website. In the near future, we will also be uploading a set of slides that anyone can use to teach about Clinical eCompanion.
Clinical eCompanion has also been included in some recent NNLM MAR presentations and classes. You can view the most recent recording of the class PubMed and Beyond: Clinical Resources from the National Library of Medicine to see Clinical eCompanion demonstrated along with many other free, reliable resources from the National Library of Medicine.
NNLM MAR staff are available for in-person and online demos of Clinical eCompanion. Contact nnlmmar@pitt.edu to schedule. We also would love to hear any feedback from health professionals, librarians and others who are using the site!
The point-of-care information tool described in this article was developed by librarians at the University of Pittsburgh, Health Sciences Library System with Federal funds from the National Library of Medicine, National Institutes of Health, Department of Health and Human Services, under Contract No. HHS-N-276-2011-00003-C and maintained under cooperative agreement number UG4LM012342 with the University of Pittsburgh, Health Sciences Library System. The content is solely the responsibility of the authors and does not necessarily represent the official views of the National Institutes of Health.
---
Written by Erin Seger, Health Professions Coordinator, for the Winter 2019 edition of The MAReport quarterly newsletter.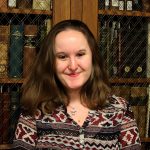 ABOUT Hannah Sinemus
Hannah Sinemus is the Web Experience Coordinator for the Middle Atlantic Region (MAR). Although she updates the MAR web pages, blog, newsletter and social media, Hannah is not the sole author of this content. If you have questions about a MARquee or MAReport posting, please contact the Middle Atlantic Region directly at nnlmmar@pitt.edu.
Email author View all posts by Hannah Sinemus