It's National Public Health Week!
Posted by Hannah Sinemus on April 1st, 2019 Posted in: Consumer Health, Outreach, Public Health

---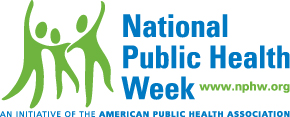 National Public Health Week (NPHW) begins today! Lead by the American Public Health Association (APHA), every year for the first week of April communities and organizations dedicated to improving the public health across the United states come together to spread awareness and highlight important health-related topics. Each day of NPHW focuses on a particular theme related to health.
A major goal of the National Network of Libraries of Medicine (NNLM) is to improve public health via access to information, enabling individuals to make informed decisions about their health and healthcare. We are excited to share NPHW resources with our members and colleagues in the hope that you will spread awareness in your institutions and engage your communities in these important health discussions! Below you will find information about each of the NPHW daily themes and upcoming events, including applicable resources and tools from APHA, as well as quality sources of health information from the National Library of Medicine, National Institutes of Health, and other trusted institutions that can be easily incorporated into health programming and projects. Additionally, we are pleased to highlight projects funded by NNLM that may provide inspiration for your own activities.
If your organization is sponsoring an event, or getting out in the community for NPHW 2019, Tell us about it! NNLM MAR is always interested in learning about health outreach activities that are happening in Pennsylvania, New York, New Jersey and Delaware.
NPHW Events
Looking for a NPHW event near you? You can see the entire list of registered activities on the NPHW Events page. Many of these are free and open to the public, or free with registration.
NPHW Twitter Chat – April 3, 2:00-3:00 PM ET – RSVP and follow @NPHW and use #NPHWchat on Twitter to chat about all things public health, celebrate everything public health has accomplished and talk about where the movement is going. Learn more about this year's theme — "For science. For action. For health," — and how you can be a part of NPHW.
NPHW Student Day: You're Graduating. Now What? – April 4, 6:00-7:30 PM ET – This event will feature early- and mid-career public health professionals discussing how they made the jump from public health students to public health workers. From finding internships to building a resume and working your way up in an organization, public health students will get real, useful information on what to do once they have their diploma. Join the live webcast to submit questions and participate in the discussion!
NPHW Themes and Suggested Resources
The 2019 National Public Health Week theme is "For science. For action. For health," and each daily topic is addressed with a clear focus on the importance of improving public health in these three contexts. Some quick facts from the Healthiest Nation Facts Sheets can easily demonstrate the need for public health awareness:
Thirty-five million homes in America have at least one health or safety hazard.
More than 54 million people in the U.S. live in low-income urban and rural areas that are far enough away from a grocery store that the area is designated as having "low access" to healthy food.
Every day in the U.S., 93 people die and 222 are injured due to gun violence. Seven American children and teens die every day due to gun-related violence and suicide.
More than 30 percent of direct medical costs faced by black, Hispanic and Asian Americans can be tied to health inequities; that translates to more than $230 billion over a four-year period.
In addition to the NPHW communications toolkit and shareable graphics for social media, check out our suggestions for quality information resources that you can incorporate into your NPHW activities, and continued health programming throughout the year.
Monday – Healthy Communities
Suggested Resource: PHPartners – The NLM resource PHPartners offers trustworthy resources for the public health workforce. If you're interested in searching for journal articles to support the Healthy People 2020 objectives, try using PHPartners preformulated PubMed searches. These can help you more quickly find the evidence for a healthy community
Tuesday – Violence Prevention
Suggested Resource: MedlinePlus – Are you interested in educating the public about domestic violence? The National Library of Medicine's consumer health database, MedlinePlus has topic pages on Domestic Violence and Teen Violence. These topic pages can help your community navigate to trusted materials about domestic violence support and prevention.
Wednesday – Rural Health
Suggested Resources: MedlinePlus and Clinical eCompanion – To find more information about rural health issues, visit the MedlinePlus topic page, Rural Health Concerns. This will link you to trusted resources about the unique health issues faced by rural communities. If you're a healthcare provider practicing in a rural area, you may be interested in Clinical eCompanion. The National Network of Libraries of Medicine, Middle Atlantic Region funded the creation of this information tool, developed for health professionals who do not have access to subscription databases.
Thursday – Technology and Public Health
Suggested Resources: Community Health Maps (CHM) and NICHSR ONESearch – Community Health Maps is designed to facilitate the use of GIS mapping by those who understand the potential of mapping for public health but think they can't afford it, are overwhelmed by the technology and/or are simply too busy to pursue it. This is a collaborative effort of the National Library of Medicine, the Center for Public Service Communications, and Bird's Eye View. If you want to learn more, Community Health Maps has a self-paced online tutorial available.
ONESearch is another technology resource available from the National Library of Medicine. Created by the National Information Center on Health Services Research & Health Care Technology (NICHSR), ONEsearch is a search engine that allows a user to search NICHSR's databases and web portals with one search strategy. ONESearch allows you to search HSRProj (Health Services Research Projects in Progress), HSRR (Health Services and Sciences Research Resources), HSRIC (Health Services Research Information Central) and PHPartners (Partners in Information Access for the Public Health Workforce) with one search.
Friday – Climate Change
Suggested Resources: MedlinePlus and Tox Town – If you're interested in consumer level, non-technical information about chemicals and the environment, the ToxTown page on Climate Change is a good resource. ToxTown also provides information about where someone may be exposed to chemicals in their environment and how they can protect themselves and their families. MedlinePlus also provides trusted information for the public about Climate Change and Environmental Health.
Saturday and Sunday – Global Health
Suggested Resources: CDC Global Health Portal and WHO Global Health Observatory – The Centers for Disease Control and Prevention's Global Health Portal addresses a wide variety of global health topics including travelers' health, global health security, immunization, and food and water safety. Check out the Resources section for fact sheets, infographics, videos and other easy-to-use, shareable content.
The World Health Organization's Global Health Observatory shows global data related to Sustainable Development Goals (SDGs). The Global Health Observatory theme pages provide data and analyses on global health priorities. Each theme page provides information on global situation and trends highlights, using core indicators, database views, major publications and links to relevant web pages on the theme.
Funded Projects
Looking for inspiration in developing your own health programs and activities? Check out some of NNLM MAR's past funded projects to learn what other libraries and public health organizations are doing to engage their communities and improve public health.
Connections4Health: Improving Patient Health through Addressing Social Determinants of Health – Connections4Health is a Southwest PA Area Health Education Center (AHEC) program designed to partner with community health centers and community-focused organizations to address the broader, unmet social health needs of their patients or patrons, such as food security, housing and employment. For more information about this project, watch the recording from NNLM MAR's August 2018 Boost Box, which featured guest speaker Mike Bowersox, Program Director for Connections4Health.
Nutritious, Quick, and FlavorFULL Cooking – This interactive program introduced adults to healthy cooking techniques and free online health information resources. Learn more about this project from our March 2018 Member Highlight of the Laurel Public Library.
Health Information Outreach in Shale Gas Communities – The goal of this project was to enhance resilience, decrease community-level stress and to improve mental and physical health throughout counties in Southwest Pennsylvania experiencing unconventional oil and gas development (UOGD) by using community-tailored selections of existing Environmental Health Project health resources along with quality resources from the National Library of Medicine.
Health Information and Emergency Preparedness Trainings in Libraries of Vulnerable Neighborhoods – This pilot training program contributed to community resilience-building efforts in Philadelphia to counteract the effects of weather-related emergencies including extreme heat events, hurricanes and flooding. Training offered through the pilot included an introduction to online health preparedness resources, a preparedness kit demonstration, and an assessment of community training needs and interests at local libraries.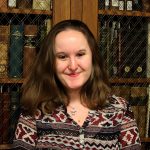 ABOUT Hannah Sinemus
Hannah Sinemus is the Web Experience Coordinator for the Middle Atlantic Region (MAR). Although she updates the MAR web pages, blog, newsletter and social media, Hannah is not the sole author of this content. If you have questions about a MARquee or MAReport posting, please contact the Middle Atlantic Region directly at nnlmmar@pitt.edu.
Email author View all posts by Hannah Sinemus