Farewell from Elaina Vitale
Posted by Hannah Sinemus on June 17th, 2019 Posted in: The MAReport
Tags: 2019 Issue 2
---
To my MAR friends and colleagues,  
It has been such a pleasure working with you for the last 3 and a half years! I have loved talking to each one of you about your work and sharing ways that the National Library of Medicine or the Middle Atlantic Region could enhance your work. I have always understood librarians to be vital connectors between resources and patrons, but my time at MAR has really highlighted this—it has been so gratifying to connect you and your users to free and trusted health resources, help you find new partners inside of and outside of your community, and for many of you, help you secure a little funding that has gone a long way in your community.  
I have learned so much from each of you—new ways of teaching, new ways of connecting with users, new and creative ways of using NLM resources. Many of you shared local restaurant, museum, and travel tips with me while I was visiting your community (special thanks to Jamie Saragossi at Stony Brook for the Long Island beach advice during one extremely hot week on Long Island!). I have loved seeing your libraries and your communities all over Delaware, New Jersey, New York, and Pennsylvania, and meeting your users in your beautiful spaces.  
I have also enjoyed teaching so many MAR members (and NNLM members nationwide) about NLM resources, citizen science, evidence-based public health, and so much more. My colleague at MAR, Michelle Burda, has a quote in her email signature—"There is no better way to learn than to teach"—and that has rung true each time I have taught you virtually or in person.  
It's no surprise that I think the MAR team is the very greatest: Michael Balkenhol, Michelle Burda, Kate Flewelling, Veronica Milliner, Erin Seger, and Hannah Sinemus are all perfect colleagues and friends—you make this job very fun and have each taught me so much!  
What is next for me? My partner and I are moving our two big dogs and far too many houseplants to New Hampshire, where I'll be starting July 1 at the Dartmouth Biomedical Libraries as a Research and Education Librarian. We are so excited for the hiking and cross-country skiing ahead, and are looking forward to exploring the area and many new adventures! 
Keep in touch, and take care! 
---
Written by Elaina Vitale, Academic and Data Services Coordinator, for the Spring 2019 edition of The MAReport quarterly newsletter.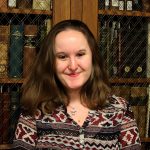 ABOUT Hannah Sinemus
Hannah Sinemus is the Web Experience Coordinator for the Middle Atlantic Region (MAR). Although she updates the MAR web pages, blog, newsletter and social media, Hannah is not the sole author of this content. If you have questions about a MARquee or MAReport posting, please contact the Middle Atlantic Region directly at nnlmmar@pitt.edu.
Email author View all posts by Hannah Sinemus