Member Spotlight: Elizabeth Schaffer, MS, MPH, CHES
Posted by Hannah Sinemus on June 17th, 2019 Posted in: The MAReport
Tags: 2019 Issue 2
---
In this issue, we are delighted to spotlight the Eastcentral and Northeast PA Area Health Education Centers. Executive Director Debra Youngfelt and Health Educator Elizabeth Schaffer reflect on their careers and on two NNLM MAR-funded projects.
I began my education career 17 years ago as a non-credit Adult Education instructor at Northampton Community College, then transitioned to teaching credit classes both online and face-to-face in English, Math, Health, and Psychology. Ten years ago, I became a Health Educator and in 2009 joined the Eastcentral PA Area Health Education Center to create and facilitate their Community Health Worker training program. This opportunity allowed me to utilize my curriculum development, networking, and teaching experience as well as my Community Health Education Specialist (CHES) certification, and Masters in both Public Health (East Stroudsburg University, 2002) and Mental Health Counseling (Capella University, 2013). As a Health Educator, I have developed curriculum and facilitated Community Health Worker (CHW), Medical Secretary, Youth and Adult Mental Health First Aid trainings, and participated in the Pennsylvania CHW Steering Committee. Today I use my skills and knowledge to train individuals in non-clinic health careers and am passionate about improving the lives of my students and the communities we serve.
In 2018, the Northeast PA AHEC received NNLM funding for our CHW program. As a result, we were able to update our CHW curriculum to include NLM resources such as MedlinePlus and provide scholarships for individuals to be trained as CHWs. Eleven students successfully graduated from the CHW program. The individuals are not only passionate about their community and linking individuals to resources, but they now have the knowledge and skills to disseminate accurate health care information through MedlinePlus. NNLM Coordinator, Erin Seger, attended our CHW program and presented many of the available NLM resources to our class. Students were required to complete a final project as part of their training in which a disease or topic of interest was selected. Students used MedlinePlus to develop a lesson plan and presentation which was then presented to the class. The purpose of this process was that if students could use the acquired resources to explain a topic to their classmates, they would be able to showcase the resources when working with patients as a CHW.
Our curriculum now has several MedlinePlus resources embedded, so I make sure to review and update materials as needed to include them in our training. The resources available are amazing and pertain to many different participants. Students I have worked with come from many backgrounds, cultures and ages including English as a Second Language and GED students, dislocated workers, and incumbent workers. We have had students as young as 20 and as old as 70 trained as a CHW. AHEC is a non-profit organization focused on working with the rural and underserved areas. We serve 14 counties comprised of individuals from various socioeconomic status throughout the Northeast & Eastcentral regions of Pennsylvania. Health concerns in our regions are similar to many in that we lack mental health and primary care providers, and the opioid crisis has reached most of our communities. As a Health Educator for AHEC, I strive to improve the health and access to care for the communities we serve.
Register to join Elizabeth and NNLM MAR Coordinator Erin Seger on June 26 from 2:00-3:00 PM ET for a free webinar on resources for Community Health Workers! Attendees will learn about projects that use NLM resources in CHW training and community education, and how Elizabeth integrated MedlinePlus into a 100 hour CHW training program.
---
Written by Elizabeth Schaffer, Health Educator at the Eastcentral and Northeast PA Area Health Education Centers in Lehighton, PA, for the Spring 2019 edition of The MAReport quarterly newsletter.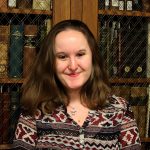 ABOUT Hannah Sinemus
Hannah Sinemus is the Web Experience Coordinator for the Middle Atlantic Region (MAR). Although she updates the MAR web pages, blog, newsletter and social media, Hannah is not the sole author of this content. If you have questions about a MARquee or MAReport posting, please contact the Middle Atlantic Region directly at nnlmmar@pitt.edu.
Email author View all posts by Hannah Sinemus