In the Region
Posted by Hannah Sinemus on August 12th, 2019 Posted in: @ the RML, In the Region

---
The National Network of Libraries of Medicine, Middle Atlantic Region (NNLM MAR) staff are always working on something new! Whether we're developing and teaching classes, exhibiting or presenting at conferences, visiting our Members and Partners, or spending time in the office, our work focuses on advancing the progress of medicine and improving public health through access to health information. Read about some of our more recent activities, highlighted below, to learn what your Regional Medical Library is doing to support health outreach and programming in New York, New Jersey, Delaware and Pennsylvania.
Michael Balkenhol, Professional Development: I attended the American Library Association Annual Conference in Washington D.C. on June 20-25. It was my first time attending and I've never seen so many librarians in one place. I attended interested sessions on health programming, food rescue and nutrition, and citizen science that I plan to incorporate into upcoming webinars and classes in the fall and spring. It was also really fun to meet a few NNLM MAR members while I was at the NNLM exhibit booth!
Michelle Burda, Site Visit: I had the opportunity to visit Brody Family Medical Library, part of the Lehigh Valley Health Network, in Allentown PA on June 30. This library was awarded NNLM MAR funding to support programming and promotion of the NLM exhibit, Every Necessary Care & Attention: George Washington & Medicine. The exhibit is open to the staff of the hospital and the community. Additional handouts and posters of relevant historical facts about the area and George Washington were created by a work study student, and a bookmark with a QR code to the exhibit's website was designed and given to exhibit attendees along with MedlinePlus trifolds. Having a NLM exhibit at the Lehigh Valley Medical Library gave the hospital staff an opportunity to learn more about NLM activities and resources, and the library. It was also an opportunity for the public to visit the medical library and learn about its presence, and the value it brings to not only the hospital but the community. 65 people attended the scheduled program the day I was there. The guest speaker brought 2 documents signed by George Washington that have only been on display twice in the time the speaker has owned them. The presenter was excellent and I would recommend him as a speaker at other places where the exhibit is planned. Please contact me for additional information mburda@pitt.edu.
Erin Seger, Reaching New Audiences: Over the last year, MAR has been able to teach three classes that offered continuing education credit for Certified Health Education Specialists. This is exciting for me because I am a Health Educator myself. I have been certified as a Health Education Specialist (CHES) since 2009, and worked as a Health Coach and Health Educator prior to my role here at NNLM. I think there is a natural connection between the field of Health Education, the mission of NNLM, and the purpose of NLM resources. Today the National Commission for Health Education Credentialing (NCHEC), who certifies Health Education Specialists, posted an infographic that described one of the roles of a Certified Health Education Specialist as "inspiring priority populations to make the best decisions they can about their health". Here at NNLM we can support this through our regularly scheduled national classes, and offering CHES continuing education can ensure that these professionals get the information they need from our classes. I'm excited that as of July 1, 2019, MAR was approved as a provider of CHES CE for the next 2 years. This means that our region and the others across NNLM will be able to more widely offer continuing education for these professionals. If you are a CHES or know someone who is, reach out to me at ers166@pitt.edu to be added to our CHES email list, where you will learn about the next round of CHES CE opportunities.
Kate Flewelling, Goodbye and Hello! On July 23, I had the pleasure to speak at the PA Governor's Council on Library Development at Penn State University. I presented on services for public and academic libraries to Glenn Miller, Deputy Secretary & Commissioner for Libraries, library directors, and other stakeholders. If you would like an NNLM MAR presentation to your group, please contact us.
This summer, we are saying farewell to All of Us Community Engagement Coordinator Veronica Leigh Milliner. Veronica was instrumental in developing the All of Us Community Engagement project not only in MAR, but throughout NNLM. The programs she developed and relationships she made will continue to bear fruit throughout the pilot program and beyond. I am sure you join me in wishing her well as she explores new opportunities. We have also welcomed two new staff members: Tessa Zindren, MAR Program and Outreach Assistant, is responsible for maintaining outreach materials, responding to member and staff requests, and reporting to internal and external stakeholders. Kelsey Cowles, Academic Coordinator, is our liaison to academic libraries, particularly at 2- and 4- year colleges. She will also be our liaison to NNLM's Research Data Management Working Group and Wikipedia Edit-a-Thons. Watch for them to introduce themselves in the next MAReport.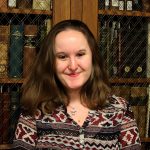 ABOUT Hannah Sinemus
Hannah Sinemus is the Web Experience Coordinator for the Middle Atlantic Region (MAR). Although she updates the MAR web pages, blog, newsletter and social media, Hannah is not the sole author of this content. If you have questions about a MARquee or MAReport posting, please contact the Middle Atlantic Region directly at nnlmmar@pitt.edu.
Email author View all posts by Hannah Sinemus