Member Spotlight: Linda Matula Schwartz, MDE, AHIP
Posted by Hannah Sinemus on September 9th, 2019 Posted in: The MAReport
Tags: 2019 Issue 3
---
Hello to friends and colleagues from Pennsylvania! I have been Director of Library Services and Patient Education at Lehigh Valley Health Network (LVHN) in Allentown, PA (with a few assorted position titles) since 2010. My BA in Natural Sciences is from one of the first and finest distance education universities, Thomas Edison State College, and my master's in distance education was achieved via distance classes at Athabasca University in Alberta, Canada. Along the way I managed to fit in AHIP and CHIS certifications.
Certainly, I have seen many changes from my early career – from cataloging and AACR2 transforming into online catalogs; from hunting down stolen Brandon Hill textbooks to troubleshooting online decision support tools; and from the initial stirrings of the internet to today's cloud-based environment.
With my dedicated patient education staff, we manage inpatient education for LVHN and are seeing major changes in providing that information directly to the patient's bedside iPad, online portal (MedlinePlus has been integrated from the start), and home devices. This team's latest accomplishments include our first interactive e-book for patients on Advance Care Planning, which won the award for health literacy for published materials from the Institute for Healthcare Advancement in May 2019, and two newly completed patient education apps. We are actively involved in integrating custom patient education into our Epic EMR – video content is our next mission!
My library team of three excellent librarians assists 16K colleagues and clinicians with literature searching, copyright consultations, and publication assistance. We administer the historical archives, teach evidence-based searching and publishing pitfalls, and manage the institutional repository making our research accessible to the world.
Library Services recently hosted an exhibit from NLM, "Every Necessary Care and Attention: George Washington and Medicine" with some funding assistance from NNLM Middle Atlantic Region. That funding supported three speakers – a Revolutionary War surgeon re-enacter, a member of the Pennsylvania Historical Prevention Society, and a local author who allowed us to display original documents from George Washington and did a book signing. Posters were created to highlight local ties to the Revolution and included an interactive Google map of sites and their relevance to the exhibit. More exhibits may be in our future – we are already getting requests!

The challenges of working in a medical library have always been mitigated by the successes and achievements. I've been fortunate to be able to participate in posters and presentations at Medical Library Association Conferences, become certified as a medical writer, learn tons about health literacy, and write a few articles "in my spare time."
It is a true blessing to have an active career in a field in which I still look forward to coming to work every day!
---
Written by Linda Schwartz, Director of Library Services and Patient Education at Lehigh Valley Health Network in Allentown, PA, for the Summer 2019 edition of The MAReport quarterly newsletter.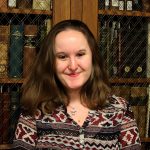 ABOUT Hannah Sinemus
Hannah Sinemus is the Web Experience Coordinator for the Middle Atlantic Region (MAR). Although she updates the MAR web pages, blog, newsletter and social media, Hannah is not the sole author of this content. If you have questions about a MARquee or MAReport posting, please contact the Middle Atlantic Region directly at nnlmmar@pitt.edu.
Email author View all posts by Hannah Sinemus