Travel like a NNLM-er!
Posted by Hannah Sinemus on September 9th, 2019 Posted in: The MAReport
Tags: 2019 Issue 3
---
It is conference season! National Network of Libraries of Medicine, Middle Atlantic Region staff members are hitting the road. After eight years of traveling across the region (and nationally) professionally, and a lifetime of road-tripping, I have developed some skills for making the most out of limited time and budget.
Research – for this librarian, this part is easy. When I travel for NNLM, I want to learn as much about where I am traveling as possible. When I meet members, I want to have a sense of the geography, the culture and the health needs of the community in order to be prepared to talk about appropriate health information resources and services. One of my go-to sources of information about a community is the local Community Health Needs Assessment. Nearly every area is covered by one, and they are easy to find through an Internet search of the state/county/town and "Community Health Needs Assessment."
Live like a local – As much as possible, I try to immerse myself in the area, even if I am only there for a short time. I go to local coffee shops and look at the posters advertising cultural events. I read the local newspaper, online or in print. If I have time, I take an hour or two to go to the local history museum. As a craft beer aficionado and a casually competitive pinball player, I know I can always meet friendly locals at breweries or a local pinball tournament when traveling for pleasure.
Listen – No amount of research beats talking to members and other locals. I am constantly amazed at all of the creative ways our members support the health needs of their community. Like everyone, I have my own implicit biases, so I especially want to visit and listen to people who have different experiences, perspectives and ways of thinking that are different from my own. I try very hard to be an active listener – to ask questions to see what is important to the people I meet, and listen to see how NLM and NNLM might help them in their community.
Report – As a federally funded program, NNLM work requires a lot of reporting. We evaluate all of our trips to ensure that we are cost-effectively traveling and meeting the goals of the NLM Strategic Plan, while best serving our members. We also want to ensure that we have institutional memory of relationships and partnerships we are fostering on our trips.
We hope to meet you on our next trip! See where you can meet an NNLM MAR staff member this fall – look for our next In the Region post on Wednesday, September 11 – or email us to set up a visit.
---
Written by Kate Flewelling, Executive Director, for the Summer 2019 edition of The MAReport quarterly newsletter.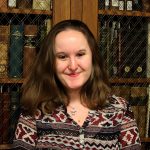 ABOUT Hannah Sinemus
Hannah Sinemus is the Web Experience Coordinator for the Middle Atlantic Region (MAR). Although she updates the MAR web pages, blog, newsletter and social media, Hannah is not the sole author of this content. If you have questions about a MARquee or MAReport posting, please contact the Middle Atlantic Region directly at nnlmmar@pitt.edu.
Email author View all posts by Hannah Sinemus