In the Region
Posted by Hannah Sinemus on October 8th, 2019 Posted in: @ the RML, In the Region

---
The National Network of Libraries of Medicine, Middle Atlantic Region (NNLM MAR) staff are always working on something new! Whether we're developing and teaching classes, exhibiting or presenting at conferences, visiting our Members and Partners, or spending time in the office, our work focuses on advancing the progress of medicine and improving public health through access to health information. Read about some of our more recent activities, highlighted below, to learn what your Regional Medical Library is doing to support health outreach and programming in New York, New Jersey, Delaware and Pennsylvania.
Erin Seger, Making Connections: I'm currently at the National Extension Association of Family and Consumer Sciences annual conference in Hershey, PA. This is a conference that brings together extension professionals to learn about evidence-based resources to address emerging issue. While cooperative extensions aren't libraries, they offer a wealth of information and expertise to their communities and are great NNLM partners. MAR is currently funding the Penn State Extension for their program Dining with Diabetes. This program helps community members with diabetes learn how to better manage their condition and introduces them to MedlinePlus so they can locate trusted health information. There are a number of ways that cooperative extensions can partner with NNLM MAR, and I hope we can explore more opportunities with these institutions!
Michael Balkenhol, Teaching: Over the next few weeks I will be gearing up for my next class, Activate, Collaborate, and Educate: Health Outreach and Programming in Your Community. This one-hour webinar will focus on health program ideas, guides, and resources for libraries and community/faith based organizations. I will share how you can integrate resources from the National Library of Medicine (NLM) and other reputable agencies into your programs, so that you too can introduce NLM resources to your community in fun and engaging ways! Register to participate on October 22 at 3:00 PM ET.
Michelle Burda, Launching New Services: Just a few weeks ago we announced the launch of NNLM Delivery, our updated platform for document delivery, storage and retrieval that is now available to all NNLM Member institutions. Prior to the launch, Hannah Sinemus and I spent several months in development with the NNLM Web Services Office (NWSO) to complete the upgrade, and create some helpful resources for our users such as the FAQ page and User Guide with video tutorials. We also hosted an information session to prepare our current users for transitioning from MARDelivery, the old version of this service. After the launch, we're very excited to be hearing from new and long-time users about their experiences with the system; the feedback is invaluable in helping us improve the system even further! If you're using NNLM Delivery and have questions or comments, please reach out to us via email: nnlmmar@pitt.edu.
Kelsey Cowles, Conferences Galore! A few weeks ago I had the pleasure of traveling to Stony Brook, NY to attend a luncheon with NNLM members and NLM director Dr. Patricia Flatley Brennan. Our gracious hosts at Stony Brook University treated us to a tour of their newly renovated health sciences library. I was impressed by their creative use and re-use of spaces! Dr. Brennan also presented a fascinating view of the future of AI and the NLM in the annual Antonija Prelec memorial lecture.
October is a busy month for travel! My colleague Erin Seger (Health Professions Coordinator) and I just returned from exhibiting at the National Extension Association of Family and Consumer Sciences conference in Hershey, PA. I will also be speaking and exhibiting at the Pennsylvania Library Association conference in Erie, PA, and at the Upstate NY and Ontario Chapter (UNYOC)of MLA conference in Watkins Glen, NY.
Kate Flewelling, Staff Development: This month, NNLM MAR welcomed new Community Engagement Coordinator Tess Wilson. Tess has an MLIS from the University of Pittsburgh and an MFA in Creative Writing from Chatham University. Tess was most recently at Carnegie Library of Pittsburgh where she developed programming for underrepresented populations and promoted the integration of data literacy into community workshops. Two current NNLM MAR staff members were also promoted! Hannah Sinemus, MLIS, is now Web Experience Coordinator for NNLM MAR and the NNLM Web Services Office (NWSO), and Tessa Zindren was promoted to Program Manager.
I have started my term as Chair of the Mid-Atlantic Chapter of the Medical Library Association (MAC-MLA), an organization of health sciences librarians and other information professionals serving the District of Columbia, Maryland, North Carolina, Virginia, Western Pennsylvania, and West Virginia. I am delighted that next year's conference is in Pittsburgh, home of NNLM MAR. I hope many of our Network members can join us!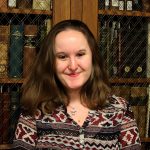 ABOUT Hannah Sinemus
Hannah Sinemus is the Web Experience Coordinator for the Middle Atlantic Region (MAR). Although she updates the MAR web pages, blog, newsletter and social media, Hannah is not the sole author of this content. If you have questions about a MARquee or MAReport posting, please contact the Middle Atlantic Region directly at nnlmmar@pitt.edu.
Email author View all posts by Hannah Sinemus