Meet the new Community Engagement Coordinator
Posted by Hannah Sinemus on October 30th, 2019 Posted in: @ the RML, All of Us, The MAReport
Tags: 2019 Issue 4
---
Hi, everyone! My name is Tess Wilson, and I am thrilled to join the National Network of Libraries of Medicine, Middle Atlantic Region team as the Community Engagement Coordinator, serving NY, NJ, DE, and PA. I work with NNLM MAR Health Programming Coordinator Michael Balkenhol to support public libraries through training and funding. I also support hospitals, nonprofits, and other organizations that partner with public libraries and spread awareness of the All of Us Research Program throughout our region. In addition, I look forward to pursuing citizen science and digital literacy initiatives through an NLM lens!
While I currently live in the hills of Pittsburgh, PA, I'm originally from the Kansas prairie! During my undergraduate studies, I worked in the Mabee Library at Washburn University. I had several jobs in the library, beginning at the circulation desk and ending with an archival internship. After graduating, I moved to Pittsburgh to attend Chatham University's Master of Fine Arts program. My focus was in poetry and publication, and I had the extraordinary opportunity to teach writing classes in underserved populations, including those at the Allegheny County Jail. After I finished this program, I served a year at Reading is Fundamental through AmeriCorps, and worked as a trainer with the Mentoring Partnership of Southwestern PA.
The library roots had taken hold early, however, and I eventually returned to the profession when I earned my MLIS at the University of Pittsburgh. While there, I was a research assistant for the Youth Data Literacy Project, an ALA Emerging Leader, and served as a Civic Information Services intern at Carnegie Library of Pittsburgh (CLP). My most recent position was that of an Outreach Librarian at the CLP Office of Programs and Partnerships. I remain passionate about supporting underserved communities, addressing issues of privacy/surveillance, and advocating for intellectual freedom.
Outside my work in libraries, I stay active in the outdoor adventure community. I have a small dog that loves to join me on hikes and camping trips, and I'm getting back into the swing of kayaking after a long break! Pittsburgh is rich with environmental conservation efforts, so I lend a hand with as many tree plantings and stream sweeps as I can, and volunteer as an Urban Eco-Steward for Frick Park.
My reading interests vary widely, but I'm currently reading a fascinating book about linguistics in the digital age! I'm always in the middle of at least one vintage sci-fi trade paperback, and I can't seem to go anywhere without a podcast queued up.
Please feel free to reach out to me with questions or ideas via email: tesswilson@pitt.edu.
---
Written by Tess Wilson, Community Engagement Coordinator, for the Fall 2019 edition of The MAReport quarterly newsletter.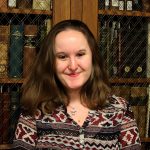 ABOUT Hannah Sinemus
Hannah Sinemus is the Web Experience Coordinator for the Middle Atlantic Region (MAR). Although she updates the MAR web pages, blog, newsletter and social media, Hannah is not the sole author of this content. If you have questions about a MARquee or MAReport posting, please contact the Middle Atlantic Region directly at nnlmmar@pitt.edu.
Email author View all posts by Hannah Sinemus