Graphic Medicine: Using Comics to Understand Health
Posted by Hannah Sinemus on November 4th, 2019 Posted in: The MAReport
Tags: 2019 Issue 4
---
Graphic Medicine is a growing genre that combines comics or graphic novels to capture and tell health stories. Sometimes Graphic Medicine refers to informational materials like comics being used in patient handouts, but most often Graphic Medicine are memoirs or semi-autobiographical novels.
Dr. Ian Williams describes Graphic Medicine as "the intersection of the medium of comics and the discourse of healthcare." His book, The Bad Doctor, is about a young doctor balancing the stresses of life, his responsibilities and the doubts he feels while making major decisions about the lives of others. It was one of the first titles I picked up and an interesting glimpse into the pressures of practicing medicine.
Benefits to using comics in medicine are wide and varied. For medical professionals, Graphic Medicine can build empathy and help establish understanding around what it means to be a patient. For patients and the families of patients, a well selected Graphic Medicine title can help readers work through the social isolation and stigma around sickness and disease. Graphic Medicine can be a more accessible way to approach a complex health topic.
Graphic Medicine can also be an asset to collections in public libraries. Nonfiction collections about health and wellness are often costly and quickly become obsolete. Graphic Medicine titles on addiction, cancer, veterans' health, HIV/AIDS, and mental health can fill important gaps in health and wellness collections. Additionally, if you have a medical encyclopedia and other old health reference books available, libraries can use that space to promote graphic medicine and direct health information questions to MedlinePlus! You can also order MedlinePlus brochures from NNLM MAR at no cost.
To learn more about Graphic Medicine, check out these resources!
Graphic Medicine: Ill-Conceived and Well-Drawn! – The National Library of Medicine produces traveling exhibitions, which are made available free of charge to public, university, and medical libraries, as well as cultural centers across the country. Though there is a shipping fee, contact your NNLM Regional Medical Library to inquire about funding sources. In additional to the traveling exhibition, check out the related education resources for lesson plans and learning modules.
From NLM, "Graphic Medicine: Ill-Conceived and Well-Drawn! explores an increasingly popular, yet little-known literary field that presents personal illness narratives and health information through the medium of comics. The exhibition showcases items from the NLM's growing collection of graphic memoirs depicting people's experiences with an array of health issues, including breast cancer, deafness, mental illness, HIV/AIDS, and more."
GraphicMedicine.org – GraphicMedicine.org is a site that explores the interaction between the medium of comics and the discourse of healthcare. This website is home to a community of academics, health careers, authors, artists, and fans of comics and medicine. A Spanish language sister website, medicina gráfica, is also available.
National Network of Libraries of Medicine, New England Region's Graphic Medicine Initiative – The NNLM NER Graphic Medicine initiative seeks to provide training and tools, to inform and encourage growth in the use of comics in libraries and health care settings. Check out this resources for book lists, webinar recordings, and book club programming information.
What is a Graphic Novel? – If you are thinking about incorporating graphic medicine into your teaching or programming, check out graphic novel educational tools like slides and infographics from cartoonist Jessica Abel.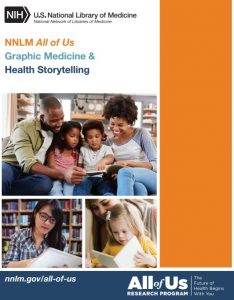 NNLM All of Us Programming (see graphic medicine) – The NNLM All of Us Community Engagement Network has programming resources that includes a program kit on doing health programming with Graphic Medicine & Health Storytelling. This program guide offers ideas for activities and information about using Graphic Medicine as a funded project to raise awareness of the NIH All of Us Research Program.
NNLM Reading Club – A few months ago, I wrote about the NNLM Reading Club which provides titles and program guides at no cost to NNLM Members. A stand out graphic medicine title – Rachel Lindsay's Rx – is available for order.
Additional Reading:
For Watching:
Happy Reading!
---
Written by Michael Balkenhol, Health Programming Coordinator, for the Fall 2019 edition of The MAReport quarterly newsletter.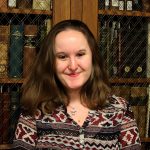 ABOUT Hannah Sinemus
Hannah Sinemus is the Web Experience Coordinator for the Middle Atlantic Region (MAR). Although she updates the MAR web pages, blog, newsletter and social media, Hannah is not the sole author of this content. If you have questions about a MARquee or MAReport posting, please contact the Middle Atlantic Region directly at nnlmmar@pitt.edu.
Email author View all posts by Hannah Sinemus