In the Region
Posted by Hannah Sinemus on November 13th, 2019 Posted in: @ the RML, In the Region

---
The National Network of Libraries of Medicine, Middle Atlantic Region (NNLM MAR) staff are always working on something new! Whether we're developing and teaching classes, exhibiting or presenting at conferences, visiting our Members and Partners, or spending time in the office, our work focuses on advancing the progress of medicine and improving public health through access to health information. Read about some of our more recent activities, highlighted below, to learn what your Regional Medical Library is doing to support health outreach and programming in New York, New Jersey, Delaware and Pennsylvania.
Kelsey Cowles, wrapping up fall travel: Over the past few weeks I have been very busy traveling around the region! The Pennsylvania Library Association conference in Erie, PA was a great way to connect with folks from all different types of libraries and introduce them to the wide variety of NLM resources that they can use in their work. I followed that up with the Upstate NY and Ontario Chapter of MLA conference in beautiful Watkins Glen, NY, where the fall colors were still spectacular. Next, I stopped for a day in Philadelphia, PA to attend OpenCon Philly on my way to my final trip of the fall, the NY-NJ Chapter of MLA conference. OpenCon was a unique and exciting conference and I came away from it with lots of new ideas for incorporating the principles of 'open' into my work with the NNLM's Research Data Management working group!
Michelle Burda, engaging our local community: I drove to South Park Township Library in Pittsburgh, PA on a pretty autumn day, October 30th. I presented "Engage for Health: Learn how to improve communication with your doctor or health care provider and take an active role in managing your health." The content of the program was a presentation to help consumers be better prepared for their next office visit by offering tips on how to improve communication skills and become more engaged in managing their health or that of a loved one. Using examples, I explained how to speak up and become an active and empowered participant in the health care process. We also discussed resources related to healthy aging, like the National Institute on Aging's Talking with Your Doctor, What's on Your Plate?: Smart Food Choices for Healthy Aging, and the Go4Life Workout to Go Guide for older adults. It was a pleasure to talk to an engaging audience from the community who were interested in health information and its importance to managing their health care. This library is very active in programming for adults – they even have a retired ballet teacher who offers evening classes!
Erin Seger, at Conference: Last week I was at the American Public Health Association Annual Conference in Philadelphia, PA. I was lucky enough to present with MAR partners Chad Thomas, Alison Wessel, Kelly Sines and Rachel Feuerstein-Simon on public health and library partnerships. From emergency preparedness to digital literacy, to the opioid crisis, it was clear from these presentations that libraries are truly an important public health partner. Following my presentation, I've spoken with several people who attended the session. There seems to be agreement that working with libraries is of great interest to public health professionals, but perhaps a resource they hadn't considered in the past! I'm excited to see where these types of partnerships move in the future.
Michael Balkenhol, travel to NYLA: This week I'm heading to Saratoga Springs for the New York Library Association Conference, November 14-16! If you're attending, you can find me (and Tess Wilson) in the exhibit hall and at two sessions – Friday at 3:45 PM on Citizen Science, and Saturday at 9:30 AM for the Youth Services Table Talks on Teen Mental Health Resources!
Kate Flewelling, planning for Year 5: On November 20, NNLM MAR staff will have our 3rd annual planning retreat at the University of Pittsburgh's Center for Creativity. Now that everyone's fall travel season is winding down, it's time for us to reflect and to plan in a creative space away from the office. It's also a great way to get to know each other better and do some team building. Check out the posts from our 2017-18 retreats and follow us this year on Twitter or Instagram, #nnlmmarRetreat.
Tess Wilson, making connections: I'm excited to get to work with some of the wonderful community-based organizations who were granted Health Programming in Public Libraries awards recently. These projects will be an exciting new way to think about bringing health literacy into the public library space. I have also been invited to be a guest lecturer for Library and Information Science (LIS) programs at the University of Pittsburgh and the University of Wisconsin at Madison, which has been a real honor. I have spoken to these students about instruction in the public library, library advocacy, and NLM professional development opportunities. Finally, I am thrilled to be working with the Housing Authority of the City of Pittsburgh to bring health and digital literacy to a public housing community in the city. This is a creative approach to this kind of work, and I can't wait to keep everyone updated on our progress!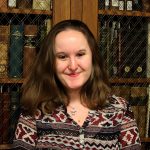 ABOUT Hannah Sinemus
Hannah Sinemus is the Web Experience Coordinator for the Middle Atlantic Region (MAR). Although she updates the MAR web pages, blog, newsletter and social media, Hannah is not the sole author of this content. If you have questions about a MARquee or MAReport posting, please contact the Middle Atlantic Region directly at nnlmmar@pitt.edu.
Email author View all posts by Hannah Sinemus