In the Region
Posted by Hannah Sinemus on December 16th, 2019 Posted in: In the Region

---
The National Network of Libraries of Medicine, Middle Atlantic Region (NNLM MAR) staff are always working on something new! Whether we're developing and teaching classes, exhibiting or presenting at conferences, visiting our Members and Partners, or spending time in the office, our work focuses on advancing the progress of medicine and improving public health through access to health information. Read about some of our more recent activities, highlighted below, to learn what your Regional Medical Library is doing to support health outreach and programming in New York, New Jersey, Delaware and Pennsylvania.
Kate Flewelling, MidYear Review: Although the calendar says we are at the end of 2019, NNLM MAR is in the middle of Year 4 of our 5-year Cooperative Agreement with the National Library of Medicine. On December 9, NNLM MAR had our midyear review with NLM to update them on our progress towards yearly goals. It's also a great time to brag about all the great work happening in our region by staff and our members. One of the goals we are trying to reach by April 30, 2020 is 60% "active" membership. We are almost there – 57% as of this writing, but we can use your help. Look for your organization's record in the membership directory – is everything up to date? Are the listed contacts current? Shoot us an email at nnlmmar@pitt.edu to let us know if everything is current, or to update us on any needed changes. Thank you for your help in accurately reporting NNLM MAR membership!
Erin Seger, Offering Rural Health Resources: On December 6, I spoke at the Adirondack Rural Health Network quarterly meeting about the programs and funding offered by the National Network of Libraries of Medicine, Middle Atlantic Region. AHRN, a program of the Adirondack Rural Health Institute, is a coalition focused on assessment, education and training that furthers the New York State Department of Health Prevention Agenda. The organizations involved all do great work to improve the health of their communities. In my opinion, this work can be even more challenging in a the rural settings that make up the Adirondack area. Did you know that NNLM has a class about rural health resources? Check out the NNLM course Catalog listing for From the Mountains to the Sea: Rural Health Issues and Resources. You can watch the recording of this class that took place just a few weeks ago. If you want to attend the next live session, watch our training calendar for it to be scheduled, or sign up for Weekly Postings, where you'll get e-mail updates about upcoming online classes.
Tess Wilson, LIS Outreach: Michael and I exhibited at the New York Library Association Conference from November 13-15 in Saratoga Springs, NY. While exhibiting, we made connections with LIS programs in our region and talked to several public libraries about funding. We continued to receive very positive feedback about the NNLM Reading Clubs! On Saturday, we participated in a speed-dating session during which we provided NNLM information relevant to teen health issues. On December 3rd, I was a guest lecturer for a Public Libraries course at the University of Wisconsin-Madison, where I discussed issues of advocacy in the public library and NNLM funding opportunities that could support this work.
Michelle Burda, Connecting with MedLibs: On December 5th, I participated in the monthly chat for solo librarians who work in medical or health sciences libraries. Many solos librarians are not MLA members and cannot participate in MLA's Solo Librarians Caucus. These chats are led by Louise McLaughlin, M.S.L.S., M.P.S., Information Specialist, Woman's Health Sciences Library, Baton Rouge, LA. For the November-December chat I was asked to highlight resources that are available on the NNLM MAR website, programs, services, and classes that we offer. I also included information about the new PubMed, NNLM delivery, our coordinators' involvement in the All of Us Research Program, and introduced our new staff members. For those who are MLA members and are interested in the MLA Solo Librarians Caucus, they provide solo librarians serving health care professionals with a forum that offers an opportunity for support, help, and professional development. The caucus's primary goal is to give a voice to solo librarians, who continuously strive to strengthen their positions within MLA and their individual institutions. A secondary goal is to serve as an outreach and recruitment tool for librarians seeking an organizational home.
Kelsey Cowles, Wrapping Up the Fall #CiteNLM Campaign: The Fall 2019 #CiteNLM Wikipedia editing campaign (October 1 – November 30) was capped off by an all-day virtual edit-a-thon on November 20. This fall's campaign was highly successful, with over 100 editors participating. These editors were able to edit 99 articles on mental health topics, adding almost 50,000 words and around 550 new references to trusted sources of medical information! This was the first #CiteNLM campaign offering organizations the opportunity to host affiliated in-person edit-a-thons. Several libraries across the country, including the University of Pennsylvania, joined our campaign in this way – thank you! If you weren't able to participate this time around, please visit nnlm.gov/wiki to learn more, and keep an eye out for news about the Spring 2020 campaign.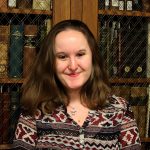 ABOUT Hannah Sinemus
Hannah Sinemus is the Web Experience Coordinator for the Middle Atlantic Region (MAR). Although she updates the MAR web pages, blog, newsletter and social media, Hannah is not the sole author of this content. If you have questions about a MARquee or MAReport posting, please contact the Middle Atlantic Region directly at nnlmmar@pitt.edu.
Email author View all posts by Hannah Sinemus