In the Region
Posted by Hannah Sinemus on February 13th, 2020 Posted in: In the Region

---
The National Network of Libraries of Medicine, Middle Atlantic Region (NNLM MAR) staff are always working on something new! Whether we're developing and teaching classes, exhibiting or presenting at conferences, visiting our Members and Partners, or spending time in the office, our work focuses on advancing the progress of medicine and improving public health through access to health information. Read about some of our more recent activities, highlighted below, to learn what your Regional Medical Library is doing to support health outreach and programming in New York, New Jersey, Delaware and Pennsylvania.
Erin Seger, Thinking About Program Evaluation: I'm currently taking a course about public health program evaluation at the University of Pittsburgh School of Public Health. It's gotten me thinking about the different ways MAR and our partners can evaluate programs so that our stakeholders know how important our work is! Did you know that there are evaluation materials available from the NNLM National Evaluation office? In their Four Steps to an Evaluation Plan, NEO outlines some ways that an organization can get started with program evaluation. These steps include: doing a community assessment, making a logic model, developing measurable objectives, and creating an evaluation plan. This information is relevant because NNLM MAR recently announced our annual funding opportunities. It can seem like a lot of work to make a logic model and objectives before you write a grant, but doing this can definitely help strengthen a proposal because your plan will be more organized, making it clearer to reviewers what you aim to accomplish. MAR has some upcoming webinars that can help you get started with a proposal. One of these will talk about how County Health Rankings and Roadmaps can support what you put into your logic model. If you're interested, join us on February 19 from 3:00-4:00 PM ET for What Works for Health? Using County Health Rankings and Roadmaps in Grant Writing.
Michael Balkenhol, Summer Reading and PLA: If your library is gearing up for summer reading, check out our health programming plans that compliment the summer reading theme of Imagine Your Story for 2020! Later this month, I will be heading to the Public Library Association (PLA) Conference in Nashville, TN. If you are heading to the conference, visit me at the National Library of Medicine Exhibit Booth #1907 on Thursday February 27 between 3:00-5:00 PM, or Friday February 28 between 11 AM and 1 PM. Hope to see you there!
Michelle Burda, Citizen Science at the NNLM Summit: I am happy to report that all of the MAR coordinators have made it safely back from snowy Salt Lake City, Utah where upon arrival there was about 8 inches of snow. We all gathered with coordinators from the other seven regions of NNLM to meet new colleagues, learn about new partnerships with community based organizations, new programs and offices at NNLM, and to exchange and brainstorm new ideas. One session that I attended that I want to share with you was focused on our involvement with citizen science. I did not know much about this program as it is one of the newer programs for NNLM. You will be hearing more about Citizen Science Month in the weeks to come, and how you can become involved. If you don't know much about citizen science like me, or want to see health-related projects, I would encourage you to explore our expanded partnership with SciStarter. On this page you will find an interactive tutorial that introduces you to the who, what, how, and why of citizen science. Stay tuned for information to come on Citizen Science month April 2020.
Kelsey Cowles, Returning from ALA Midwinter: Members of the MAR staff recently had the pleasure of connecting with many of our regional partners at the American Library Association (ALA) Midwinter conference in Philadelphia. It was lovely to reconnect with established partners and meet so many new colleagues! MAR also funded four Library and Information Science (LIS) students to attend the conference with us to learn about the NLM and NNLM, attend sessions, and chat with librarians at the NLM exhibit booth. Additionally, PCOM's library and Temple University's Health Sciences Library generously hosted me and two of the students for site visits. The students and I had a wonderful time receiving tours of the libraries and partaking in in-depth discussions about their operations. They found the experience of comparing and contrasting how the libraries at two different institutions support students and faculty very valuable. We are looking forward to working with these bright students in the future!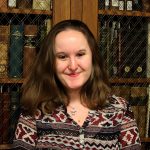 ABOUT Hannah Sinemus
Hannah Sinemus is the Web Experience Coordinator for the Middle Atlantic Region (MAR). Although she updates the MAR web pages, blog, newsletter and social media, Hannah is not the sole author of this content. If you have questions about a MARquee or MAReport posting, please contact the Middle Atlantic Region directly at nnlmmar@pitt.edu.
Email author View all posts by Hannah Sinemus