Farewell from Hannah Sinemus
Posted by Tessa Zindren on April 13th, 2020 Posted in: The MAReport
Tags: 2020 Issue 2
---
My time with the National Network of Libraries of Medicine, Middle Atlantic Region (NNLM MAR) has been invaluable to me – as a library professional, a technology support specialist, and in the realm of health information outreach. I have been working behind the scenes at MAR since 2016, providing support and quality assurance on trainings and web-based resources, and getting to know the National Library of Medicine. You may have seen my name at the bottom of a blog post, or as a supporting host in many of NNLM MAR's webinars; perhaps you've called me for assistance with updating your Member record, or watched my instructional tutorials for NNLM Delivery. My role has evolved quite a bit over the years, but I've always had a foothold in two offices – supporting the outreach work of our Regional Medical Library (RML), and supporting the network overall as the primary contact for the NNLM Web Services Office (NWSO). In the next year of our cooperative agreement, my role with NWSO will be expanding, and so I must say farewell to my day-to-day work with the RML to accept this new challenge.
I have learned so much from my colleagues at MAR – while sitting in on their webinars, they taught me a great deal about the National Library of Medicine and its plethora of quality information resources; I have learned the value of outreach work in creating healthy communities, especially when it comes to sharing resources that improve access to health information. They have served as my pilot testers, advisory group, and provided inspiration for improvements in many of our processes and services. The work they do is nothing short of incredible – even in the midst of a challenge like a global pandemic, the MAR team is developing programs, sharing resources, and finding creative solutions to continue providing the best possible support for institutions in our region. I am thankful to carry their insight and inspiration with me as I move to support the rest of our network staff in a greater capacity.
My last day with NNLM MAR will be April 30, 2020. If you have questions about a webinar, blog post, resource guide, NNLM Delivery, or anything else related to our web-based technologies, please reach out to the RML via email: nnlmmar@pitt.edu. NNLM MAR's Program Manager, Tessa will be able to assist you with whatever you may need!
Luckily, the NWSO Offices are located at the University of Pittsburgh, Health Sciences Library System, just down the hall from MAR – so I won't be moving very far! Though we are all working remotely for the immediate future, I'm happy to be close by, and look forward to connecting with everyone again when we return to the university.
Until then, be happy, healthy and well!
---
Written by Hannah Sinemus, Web Experience Coordinator, for the Spring 2020 edition of The MAReport quarterly newsletter.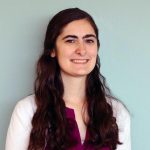 ABOUT Tessa Zindren
Email author View all posts by Tessa Zindren