In the Region
Posted by Tessa Zindren on May 19th, 2020 Posted in: In the Region

---
The National Network of Libraries of Medicine, Middle Atlantic Region (NNLM MAR) staff are always working on something new! Whether we're developing and teaching classes, exhibiting or presenting at conferences, visiting our Members and Partners, or spending time in the office, our work focuses on advancing the progress of medicine and improving public health through access to health information. Read about some of our more recent activities, highlighted below, to learn what your Regional Medical Library is doing to support health outreach and programming in New York, New Jersey, Delaware and Pennsylvania.
Kelsey Cowles, Jumping into New Year 5 Activities: Although Team MAR's spring travel plans have been postponed, canceled, or moved to a virtual venue, we have been working full steam ahead on closing out Year 4 of our cooperative agreement, which ended April 30, and jumping right into Year 5. I'm particularly excited about the new Year 5 efforts I've been involved in thus far. The NNLM Research Data Management working group will present a reorganized semi-monthly webinar series focused on ethical issues surrounding research data management. A new national webinar series for health sciences librarians will provide concise and practical resource and skills updates. NNLM is also working to expand existing outreach efforts and opportunities for folks interested in bringing citizen science into their library and for students and information professionals interested in learning more about health sciences librarianship as a career path. Stay tuned for more information on these opportunities!
Tess Wilson, Going Virtual: I recently delivered a webinar to Nassau County Library Association that focused on serving seniors in public libraries. The webinar had nearly 100 attendees, all of whom were enthusiastic and excited to participate! Resources shared included Go4Health, MedlinePlus, the CARES Engagement Network, and County Health Rankings. Kelsey Cowles and I are in a Citizen Science Virtual Engagement Working Group where we collaborate with our colleagues at other NNLM offices to encourage citizen science participation throughout the network. The group's plan is to highlight some of the stellar programming occurring in libraries, and to continue promoting projects from NNLM's partner SciStarter.
Erin Seger, Highlighting Substance Use Disorder Resources: I am working with NNLM's Substance Use Disorder (SUD) Working Group to determine what online resources and information on this topic are of greatest interest to the NNLM audience. Thanks to anyone who has taken the time to complete a course evaluation after attending an NNLM training. We value your responses and have been able to use what you told us after SUD focused trainings! In my recent MAReport article, I highlighted some resources that people like to learn about when it comes to SUD that I hope you'll find helpful if this topic is of interest to you!
Michael Balkenhol, Getting Excited about Year 5 Funding: Over the last few weeks, I've had the opportunity to read several proposals for funding from public libraries and community based organizations. I am impressed with how some of our public library and community based organization members are thinking about in-person and virtual events to meet the needs of their communities! I'm looking forward to helping several of these applicants complete their health information literacy projects over the next year. It is a difficult time and I hope you are all doing well and taking care of yourselves as well as your communities.
Kate Flewelling, Announcing a 2020 Mover and Shaker: I'm so happy to share the news that NNLM MAR Community Engagement Coordinator Tess Wilson has been named a 2020 Mover and Shaker by Library Journal! Having worked with her for the past several months, it is perfect that she is awarded as a "Community Builder" and as part of a team. Congrats, Tess!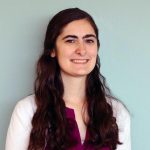 ABOUT Tessa Zindren
Email author View all posts by Tessa Zindren