Scholarship Recipients Reflect on the Association of Bookmobile and Outreach Services Conference
Posted by Tessa Zindren on February 1st, 2021 Posted in: All of Us, Funding, Member Highlights, Outreach

---
In October 2020, the Network of the National Library of Medicine (NNLM) financially supported 20 library staff across the country to attend the 15th annual Association of Bookmobile and Outreach Services (ABOS) conference. Originally slated for Dallas, TX, the conference was retooled as a virtual event due to COVID-19. Most attendees agreed that there were actually benefits to the online format. NNLM All of Us presented at the conference and continues to work with ABOS on health outreach initiatives. Here, two Middle Atlantic Region scholarship recipients outline favorite moments, and what they took away from the ABOS conference.
Claire Williams, Marketing Coordinator, Huntingdon County Library (PA)
I absolutely loved my first ABOS conference! While the format was new and different than anything I've experienced before, it was amazing to meet and talk to library staff from all over the world and hear about their experiences.
This was my first outreach-centric conference, and it was wonderful to hear about all the things people are doing. Our outreach department is still fairly new, and it was nice to get a sense of where we are relative to other libraries. Getting confirmation that the services we're offering or developing are similar to what's working in other rural areas, and that the struggles we're facing are also faced by other libraries, was really energizing in a year that's been discouraging.
I especially loved Chris Garnsworthy's presentation, and the work they're doing with seniors and those with dementia. It produced a lot of ideas for things we might be able to launch with our senior centers and residential facilities when we're able to visit them again, once COVID restrictions are lifted and it's safe to gather with them again.
Learning all the ways that libraries are pivoting in the face of COVID, and that we're all really struggling through it together, was also encouraging. We've worked to develop ways to reach those we previously visited, but with the ever-changing landscape, it's been difficult. Hearing what's working, what isn't and figuring out where we can fit those things into our community gave us a renewed sense of what we do.
I also really appreciated that the conference was able to address COVID so thoroughly, since it really has shaped this entire year for our outreach work, and will likely continue to shape it into 2021. The tips I learned, as well as the network of others that I got a chance to meet, will be invaluable going forward.
Sincere thanks to NNLM for this opportunity. I never would have learned about all these amazing resources and people without you!
Bridget O'Donnell, Reference and Adult Services Librarian, Poughkeepsie Public Library District (NY)
As a recipient of the 2020 NNLM All of Us Health Outreach Award and a first-time attendee to an Association of Bookmobile and Outreach Services (ABOS) Conference, I'm honored to have been invited to participate in the 15th-Anniversary Virtual Conference, "Out-Doing Outreach." Despite an unexpected shift for the planning committee from an in-person conference to a virtual event and technological difficulties that could have happened even on a normal day (like synchronizing sessions from my laptop for the video and smart phone for audio), a high-volume of attendees and I were given access to a wealth of 'evidenced-based' knowledge and viable information in a welcoming and educational panel of open discussions.
How we got here…The assistant director and my supervisor initially brought this opportunity to my attention for two reasons. One, in 2018 I earned the Consumer Health Information Specialization (CHIS) certification and continue to take NNLM/MLA webinars in order to update health-related resources and programs at our library. And two, the original launch date for the Roaming Rover Library, our new book mobile, was slated for the 2nd Annual Poughkeepsie Book Festival in April but had been set back due to the COVID-19 pandemic. As a result, Rover had only been out a few times [the last week of September] so attending the conference [in October] would be a proactive step that could help facilitate Rover's induction into the community.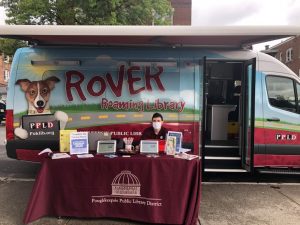 When Rover first went out we had limited technology and no books available for checkout, but we were welcomed by the Dutchess County Tourism & Parks departments, the local farmer's market, the Family Partnership health & family service organization and the Fresh Market store. While on site, English and Spanish-speaking library staff handed out fliers, bookmarks and swag and answered questions about the library. At one event community members were signed up for library cards. To help promote the 2020 Census, trained staff answered questions, tablets were connected to Rover's Wi-Fi so visitors could submit their Census while at the book mobile and fliers were distributed with instructions to complete the census at home. Activity bags were handed out at a family movie night and a socially distanced Halloween event in one of the area's recreational parks.
As we continue to introduce Rover to those with limited access, I believe our focus isn't just to provide the library's [health, self-help, fiction…and children's] books and DVDs to the public but to listen to their interests and acknowledge their needs, an idea I heard often at ABOS. I've seen numerous times in the past where the public library is one place people trust and gravitate towards during crisis; Rover is the vehicle, literally, the library can use to meet people where they're at and help more people in the community adjust to a new normal as safely as possible.
Benefits of attending ABOS and what's next… With our fiscal year coming to an end, this is the perfect time to think ahead and focus on 2021, whatever it might bring. While reviewing notes from sessions I attended and presentation materials available in the WHOVA app, I'll be looking for: areas to grow professionally; creative mobile solutions to common problems; suggestions for more obscure [local] venues and collaborations; and new healthy programs and services I can help coordinate and disseminate to the public that might surprise and educate them.
Thank you NNLM for realizing another valuable partnership with ABOS, and thank you to the ABOS planning committee for re-organizing the conference into a successful virtual event. It really was a pleasure meeting the ABOS Community and being a part of something that can help improve the quality of life and well-being for so many people.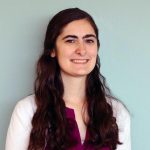 ABOUT Tessa Zindren
Email author View all posts by Tessa Zindren