Member Highlights: Queens Public Library and the Black Caucus of the American Library Association
Posted by Tessa Zindren on March 1st, 2021 Posted in: All of Us, Consumer Health, Member Highlights, Outreach

---
NNLM MAR is pleased to share successes of health outreach projects and activities in our region. Learn what your amazing colleagues are doing to increase access to quality health information for the communities they serve.
---

Thanks to generous funding from the Network of the National Library of Medicine (NNLM) and the All of Us Research Program, Queens Public Library and the Black Caucus of the American Library Association partnered to deliver an incredible 24-hour virtual Black Health and Healing Summit, implementing what one of our presenters accurately described as "24 hours of Black excellence." This live summit reached 3,921 people of all ages across the country and beyond with a roster of speakers that was nothing short of extraordinary. The event featured top experts in the fields of medicine and science, as well as notable entertainers, musicians and athletes. Presenters delved into a plethora of health and wellness issues faced by the Black community. This event was inspired by the need to promote health and healing as the COVID-19 pandemic continues to disproportionately affect Black communities across the nation.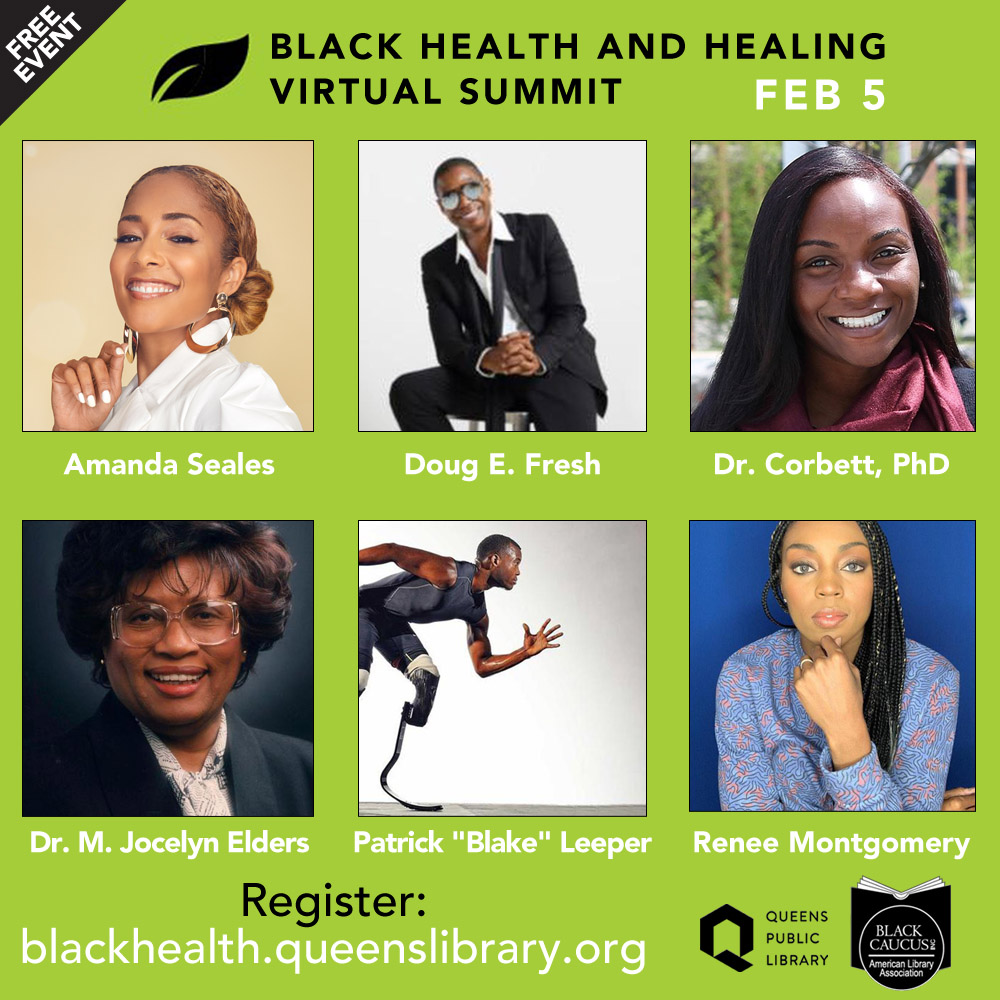 Dr. Kizzmekia S. Corbett, PhD. and Dr. M. Joycelyn Elders, MD were two of the event's esteemed speakers. Dr. Corbett is one of the leading scientists at the forefront of coronavirus vaccine development. She passionately shared about her work leading up to the COVID-19 vaccine in the context of medical mistrust and historical abuses and answered many audience questions about the vaccine. One participant during Dr. Corbett's session shared in the chat that, "Information was very helpful. I'm leaning closer to taking the vaccine." Dr. Elders, another public health hero who is the first African American and second female US Surgeon General, shared her insights on raising Black children during these especially trying times. Her husband, Coach Elders, also made a surprise appearance to close her session with a powerful poem. While we might think of virtual platforms as being less intimate, one thing that made this summit so special and different was the intimacy of hearing from presenter's family members, seeing the inside of their homes, and being able to communicate with other audience members in real time via the chat.
The summit also stood out for its focus on fun and entertainment. As the World Health Organization (WHO) defines it and as Kelsa Bartley, the Chair of the African American Medical Librarians Alliance Caucus, recognized in her summit closing, health is a state of complete physical, mental and social well-being and not merely the absence of disease. This summit was relevant and informative, but it also demonstrated that health is a holistic experience that cannot be compartmentalized from all aspects of who we are. Health includes connecting with others, listening to music, finding balance, seeking joy, having fun, embracing your and the world's beauty, and even taking the revolutionary act of resting. One way that we demonstrated this holistic approach to health was a panel discussion with beatboxing legend Doug E. Fresh, who was joined by hip-hop pioneer and Queens Public Library's Hip Hop Coordinator, DJ Ralph McDaniels, and Dr. Olajide Williams, Chief of Staff of the Department of Neurology at Columbia University. They let us join them for a laid back but extremely insightful conversation, called "Friday Night Live: Building Health Equity Through the Transformative Power of Music". Immediately after that session, we heard from actress, rapper, singer, songwriter, comedian, DJ, poet, and activist Amanda Seales. Amanda, who earned a masters degree in African-American studies with a concentration in Hip Hop from Columbia University, allowed us to bear witness to her candid conversation with Columbia University professor and Program Director, Dr. Chris Emdin. They discussed everything from Hip Hop culture to personal mental health struggles and their strategies to prevent and overcome them.
While there were too many incredible presentations to describe them all here, we warmly welcome you to view the session replays that are available at https://blackhealth.queenslibrary.org for the next 11 months, thanks to Virtual Experience Design Agency, our production and platform partner. We also thank NewYork-Presbyterian, City's First Readers and Queens Public Library for supplemental funds to support this event.
---
Written by: Tamara Michel, Kim McNeil Capers, Janet Umenta, Zakia Ringgold, Cliff Ross, Amanda Beekharry, Yves Etheart, John Pham, Denise Clark, Lisi de Bourbon and Ewa Kern Jedrychowska.
Special Acknowledgements: Shauntee Burns-Simpson, Nichelle M. Hayes, Elisa Garcia, Syntychia Kendrick-Samuel, Tamela Chambers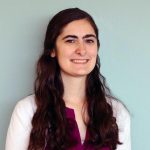 ABOUT Tessa Zindren
Email author View all posts by Tessa Zindren