Updates for Monthly Webinars
---
The NN/LM MidContinental Region looks forward to continuing to offer live and recorded webinar sessions to support your educational needs. We have a few updates we want you to be aware of for future sessions.
Registration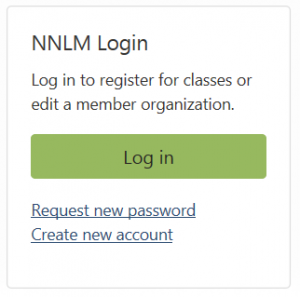 We are now asking attendees to register in advance for our live webinars. This will make it easier for us to send you reminder emails about the specific sessions that interest you, and it also enables us to more efficiently collect demographic data that we need to report. Updates to the National Network of Libraries of Medicine (NN/LM) web site now make it easier for you to register for sessions.
You will need to create an account with NN/LM to register for webinars and classes. You can do this by visiting our training schedule page: https://nnlm.gov/mcr/training/schedule.  On the right-hand side of the page you will see an option to login or create a new account. (Please note: if you have participated in NN/LM classes in the past via Moodle, you do not need a new account. Just request a new password).
After you log in, find the title from the list of sessions on the training schedule, and click on Register. That's it – easy!

You will receive a message on the screen confirming your registration. You will also receive reminder emails with further instructions for joining the webinar or class.
Webinar Recordings on YouTube
The recordings of our monthly webinars are now archived on the NN/LM YouTube channel. We have a playlist for Breezing Along with the RML: https://goo.gl/1yhdS3, and a playlist for Discover NLM Resources and More: https://goo.gl/PGnKaE. You can subscribe to this channel and receive updates on new videos from the MCR and other NN/LM regions.
New Schedules
We will continue to offer "Breezing Along with the RML" every month on the third Wednesday. This webinar will feature presentations related to health sciences and effective librarianship practices. "Discover National Library of Medicine Resources and More" is now offered bi-monthly on the 4th Wednesday. This webinar will feature specific resources from the National Library of Medicine. We invite you to join in a new national webinar series,"NN/LM Resource Picks," that is produced through a cross-regional collaboration. This series will also be offered bi-monthly and will feature resources and services of the National Library of Medicine. Our "Discover" sessions will alternate months with "Resource Picks."
If you have any questions or ideas for future webinars, or would like to volunteer as a guest speaker, please contact Christian Minter, Education Coordinator, christian.minter@unmc.edu or Annette Parde-Maass, Education Coordinator, annetteparde-maass@creighton.edu.
– Christian Minter, Nebraska/Education Coordinator