Things are getting social at the MCR
---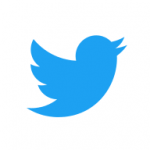 In May of 2017, the NNLM MCR quietly relaunched our Twitter account. This account had been mostly dormant since late 2013, but is now back in action. This year we are committed to tweeting or re-tweeting relevant resources, health information, and educational opportunities five days per week.
Why now?
We completed a Social Media Audit in early 2016 and, based on the results, felt that it was good time to reintroduce social media to our regional communication channels. While many of our members had been unable to access social media in the past due to institutional restrictions, it appears that this is no longer a major concern in the region. Additionally, our small but growing membership that is not based in hospital or academic health science libraries indicated that they would prefer we communicate and share health information with them via social media instead of email.
What's the point?
The content shared through this account will be focused on shareable consumer-level health resources and training opportunities. We are hoping individual and institutional members will join us, but are also targeting potential members or collaborators from our regional communities. We are also interested in highlighting regional health news and activities.
Please follow us @NNLMMCR!
If you're not able to access social media at your workplace, you can still see the latest tweets from our account and other relevant resources by visiting the MCR Social Media Stream.
-Alicia Lillich, Kansas/Technology Coordinator