New NNLM MCR Associate Director Named
---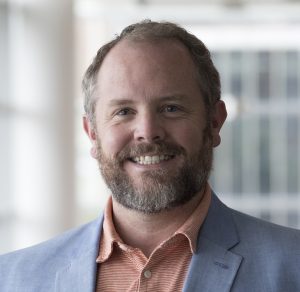 John Bramble has been named as the Associate Director of the NNLM MidContinental Region effective April 1, 2018.
Many of you already know and have worked with John through the MidContinental Region in one of his many roles, including, most recently, Interim Associate Director. Though his many years of experience are an asset, John also brings fresh eyes to our region. For those of you who aren't lucky enough to have worked with John yet, here's a brief bio!
John Bramble received his Bachelor of Sciences in Sociology at the University of Utah in 1999 and his Masters in Library and Information Science from Florida State University in 2003. He is currently in the Masters of Biomedical Informatics program at the University of Utah, with anticipated graduation in 2019. John began his employ at the Spencer S. Eccles Health Sciences Library in 1998 as a staff member, became an adjunct faculty member in 2001, entered the faculty in 2003, and joined the National Network of Libraries of Medicine MidContinental Region (NNLM MCR) in 2006. He has worked for the NNLM MCR since that time, and was promoted to Research Associate Librarian in 2011 and full Research Librarian in 2016. Since January 2018, he has been serving as the Interim Associate Director of the NNLM MCR.