Welcome Catherine Soehner
---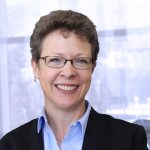 Catherine Soehner has been appointed as the Interim Executive Director of the Eccles Health Sciences Library and the Interim Director of the MidContinental Region & Training Office, National Network of Libraries of Medicine.  She maintains 20% of her role as the Associate Dean for Research and User Services at the University of Utah's J. Willard Marriott Library, a position she has held for the past seven years.  She provides vision and leadership to a wide range of library services delivered onsite and virtually, including research and information services, library instruction and training for users, and support for faculty, graduate students and other advanced users in digital scholarship efforts.  Prior to this, she served as the Director of the Science and Engineering Libraries at the University of Michigan, and Head of the Science and Engineering Library at the University of California Santa Cruz.  She began her career at the National Library of Medicine in the Associate Program and then continued working for NLM on the development, testing, and troubleshooting of Grateful Med.  Her book titled, Effective Difficult Conversations, was published in 2017 and other recent presentations and articles have focused on crisis communication, resistance to change, and new library services.  She received her Master in Library Science from Indiana University and holds a B.S. in Nursing from Mount St. Joseph University in Cincinnati, Ohio.
Selected Recent Publications
Soehner, C., Godfrey, I., and Bigler, S.  Crisis Communication in Libraries: Opportunity for new roles in public relations.  The Journal of Academic Librarianship. 43(3), May 2017, 268–273.
Soehner, C. and Darling, A.  Effective Difficult Conversations: A step by step guide.  Chicago: American Library Association Editions.  2017.
Godfrey, I., Rutledge, L., Mowdood, A., Bigler, S., Reed, J., and Soehner, C.  Supporting Student Retention and Success: Including family areas in an academic library.  Portal: Libraries and the Academy, 17, 375-388.  Available from https://pwb01mw.press.jhu.edu/journals/portal_libraries_and_the_academy/portal_pre_print/articles/17.2godfrey.pdf. 02/2017