Welcome Samantha Nunn
---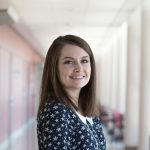 Samantha Nunn recently joined the NNLM MCR as the project coordinator for the All of Us Community Outreach Network program.
I earned an Associate Degree in Biology from Salt Lake Community College in 2017. I will be studying at the University of Utah in the fall working towards a Bachelors of Science Degree in Biology with an emphasis in cell and molecular biology.
From a young age, I have had a fascination with biology. Ranging from animals in their natural habitat, evolution and the genetic information found in every living thing to the small working cells in the human body.
My favorite subject in biology is immunology, the study of the immune system. I think it is extraordinary how the immune system's defense line works and the measures it takes to protect the human body from pathogens.
I will continue my education to earn a Masters Degree in Medical Laboratory Sciences at the University of Utah. I want to work in a lab as a biomedical researcher someday.
When I'm not working or studying from exams, I enjoy listening to music, reading novels, cross-stitching, learning how to bake and spending time with my friends and family.