Mountain West Data Library Symposium
---
Amanda K. Sprochi
J. Otto Lottes Health Sciences Library
University of Missouri
sprochia@health.missouri.edu
Data management is a vital part of any research project, and a well-thought out data management plan is becoming an essential requirement for any successful research grant proposal. I recently assisted with the organization and attended the two-day Mountain West Data Library Symposium, hosted by the University of Colorado in beautiful Boulder, with funding for professional development from the NNLM MidContinental Region. It provided an opportunity for librarians from the Mountain West region and environs to network, engage in unconference sessions, and participate in workshops dedicated to research data management, curation, sharing and re-use, preservation, and literacy, and at a low cost ($35 for registration!).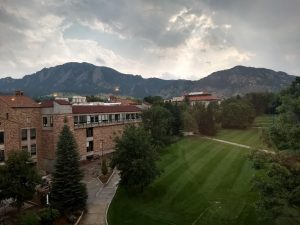 The inaugural Mountain West symposium was modeled on the Midwest Data Librarian Symposium, which is now in its fourth year. The emphasis for these symposia is hands-on training sessions that focus on active attendee participation coupled with an unconference format to encourage in-depth discussion of topics and issues surrounding data in research.  Lightning talks on various subjects rounded out the conference, and we also found time to visit the Laboratory for Atmospheric and Space Physics (LASP), which engages in space exploration and develops instrumentation for satellites and space programs.
Three workshops anchored the symposium. The first, presented by Russ White, librarian at Cal Poly State University's Robert E. Kennedy Library, showed how data librarians can use Tableau and data visualization to teach data literacy concepts to undergraduate students. Also discussed was choosing the appropriate visualization for data, how to avoid distorting data, and how to find tools to make your own data visualizations. The second workshop by Meg Eastwood, Science & Engineering Librarian at the University of Denver Libraries, covered pseudoreplication and irreproducible results. Using a series of demonstrations using M&Ms, she demonstrated how our understanding of statistical results is sometimes faulty and how to recognize errors in statistical analysis. Her workshop was both informative and tasty! The third workshop, by Elena Azadbakht, Teresa Shultz, and Rayla Tokarz from the University of Nevada-Reno, discussed how to teach data information literacy and management to disparate groups of users. Participants encountered scenarios in which patrons were seeking data literacy and management help, and, working in groups, tried to identify their needs and the information literacy concepts connected to those needs. Brainstorming sessions on how to effectively teach information literacy competencies followed, using examples of teaching scenarios.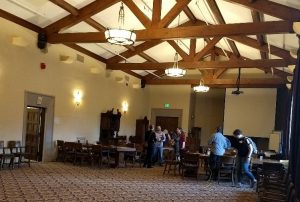 Workshops alternated with unconference sessions, in which topics in data management were discussed by small groups. Data visualization, curation, citation, and ethics were the major points of discussion. A lightning talk round covered everything from the ethical use of data to case studies of librarians dealing with data management issues. I gave a short talk on file naming conventions for the access and sharing of data.
Between all of our working sessions, there was time to eat, network, and learn from each other. A fascinating tour of the LASP allowed attendees to see the kind of research-in-action that is generating the mass quantities of data requiring storage and management, and it was cool to see a real mission control where satellites in space are being tracked and interacted with by space scientists on earth.
Not only did a learn a great deal and get some wonderful advice and counsel on data management practices, I got to meet a whole new cohort of peers with whom I can now collaborate. I would say that the symposium was a huge success and that it is a great way to learn and collaborate on a small budget. Many thanks to our hosts in Boulder and to the NNLM MidContinental Region for funding my trip.