Intersections of Informatics and Librarianship: Tisha Mentnech Reports from the AMIA Informatics Summit
Posted in: All Members, Blog, Data Science, Funding
Tags: AMIA, RDM 102
---
I was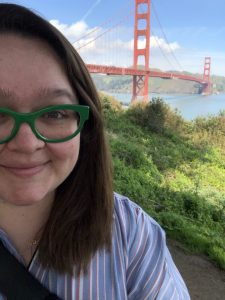 fortunate to be a part of the inaugural cohort RDM 101 Research Data Management for Biomedical and Health Science Librarians in Spring 2018 . That experience continued my learning about RDM practices in librarianship. One aspect that particularly stuck with me are the multitude of roles for librarians to be involved with data. The announcement for the funding came at an opportune time. I had recently been accepted to teach a workshop on reproducibility at the American Medical Informatics Association (AMIA) Informatics Summit in San Francisco in March. Initially, I was only going to attend the workshop because of the cost of the full conference but the call for funding provided me with the ability to attend and focus on their data science track.
I wanted to attend the data science track of AMIA Informatics Summit because I was also going to be a student in the RDM 102: Beyond Research Data Management for Biomedical and Health Sciences Librarians cohort focusing on data science practices for librarians. I knew this introduction would be a chance to see the intersections of librarianship and informatics as it relates to data science.  The workshop I taught, "Innovative Tools for Research Reproducibility and Data Sharing" was a kickstart to my learning at the conference. Questions that I was getting during the workshop about some of the information included things about ontologies, metadata, and repositories, much of which was a part of the RDM 101 course. Seeing the informaticists looking for discipline specific information on these needs began to lay the groundwork of connections between the 2 fields and demonstrated the similarities that informaticists and librarians.
The sessions that stood out to me were ones on open data and data science. One session that I took the most away from was: "Patients, Populations and Data Science." The different talks within the session that were stand outs for my connection of information professionals were: "On the Role of Question Summarization and Information Source Restriction in Consumer Health Question Answering",  "Extracting Biomedical Terms from Postpartum Depression Online Health Communities", and "Modeling Depression Symptoms from Social Network Data through Multiple Instance Learning." Each of these sections highlighted something about using open data or known data mining and data ethics. For me, one aspect of data librarianship that is most important is data literacy and ethics. Many people that were a part of the corpus of the data collected for these were not made aware that the data would be used in these ways, which brings up the question of using public data and how informed are the users creating the data. I think that as someone who teaches data literacy, this opened my eyes to things that need to be reinforced in the communities we support. This also brought up more ethical data questions that I have for research overall. I will not go into too much detail but this session opened my eyes and piqued my interest more in why having a data librarian involved in the IRB process is an avenue that I personally want to explore.
Overall, I was expecting to learn more about the intersections of informatics and librarianship. The Summit gave me more an overview of how the two disciplines could benefit each other. There are similarities in the theory of both library science and informatics. Data librarians could definitely benefit from partnering with the informatics departments if they are interested in taking their skills more technical. A symbiotic benefit for informaticists and librarians is with ontology, metadata, thesauri, and/or index development. One thing that I noticed and that was mentioned in the opening keynote from Greg Simon, President, Biden Cancer Initiative, is that there are so many home grown solutions to problems that are capitalized on and not enough creation with our peers.  This really hit home to me and is something that I am still thinking about today.
I am truly grateful for the experience that the NTO funding provided me. Learning about the ways in which librarians can support data outside of a traditional library role is something that I think needs to be discussed in more library and information programs and throughout library careers. There is not a one size fits all for librarians and the settings they work and exploring the intersections of librarians and informaticists helped remind me of that.
Tisha Mentnech (Tee-sha Mint-Nitch)
Research Librarian for Life Sciences and Research Impact
North Carolina State University Libraries