NNLM Reading Club – July selections
Posted in: #CC/Academic List, #Health Interest List, #Health Sciences List, #Public/K-12 List, All Members

---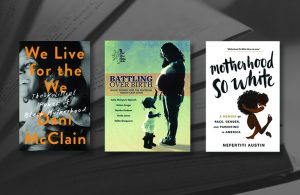 Bring your book-discussion group into one of the central conversations impacting our nation as the NNLM Reading Club focuses on Racism and Health for its July reading selections, with special attention to Black maternal health.
The three selections explore motherhood through the experiences of Black women in different ways. NNLM encourages you to use one of them to start a conversation about racism and health or keep an existing discussion going.
First-time mother Dani McClain sets out to understand how to raise her daughter in what she knows to be an unjust and even hostile society in We Live for the We: The Political Power of Black Motherhood. Nefertiti Austin recounts adoption for a single African-American woman in Motherhood So White: A Memoir of Race, Gender, and Parenting in America. Finally, researchers and doulas from an organization known as Black Women Birthing Justice bring together the birth experiences of more than 100 California women to make recommendations for improving care in Battling Over Birth: Black Women and the Maternal Health Care Crisis.
To select your title and get your book club conversation started, visit the NNLM Reading Club.