Now Showing: Human Genetics Film Kits!
Posted in: #Public/K-12 List

---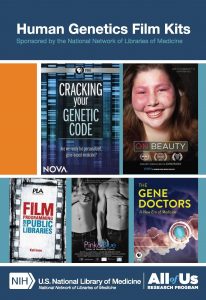 Announcing the NNLM Human Genetics Film Kit! Through our partnership with the NIH All of Us Research program, we are providing free film kits to up to 250 public libraries across the United States. Because we know how difficult programming and resources for providing health information can be in small and rural libraries with limited budget and personnel, Association for Rural and Small Libraries (ARSL) members receive first consideration.
The Human Genetics Film Kit comes with four films, discussion guides, and customizable marketing materials. Applications are open until March 16. Selected public libraries can expect to receive their kits by April 30, 2020.
Learn more about the NNLM Human Genetics Film Kit at https://nnlm.gov/all-of-us/funding/human-genetics-film-kits
Apply to receive a film kit at https://nnlm.gov/ZNv