Register for Tomorrow's NNLM Reading Club Presents…The Digital Doctor in the Age of COVID-19
Posted in: #CC/Academic List, #Health Interest List, #Health Sciences List, #Public/K-12 List

---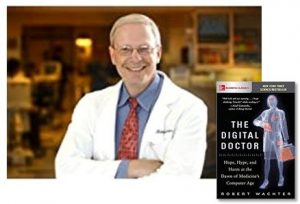 It's not too late to register for tomorrow's NNLM Reading Club Presents…The Digital Doctor in the Age of COVID-19
Dr. Robert Wachter, author of "The Digital Doctor: Hope, Hype and Harm at the Dawn of Medicine's Computer Age," will open a new series of online author presentations next month with a discussion of digital health and health technology that will also touch upon the COVID-19 pandemic.
Chair of the Department of Medicine at University of California, San Francisco, and one of the nation's most influential physician-executives, Dr. Wachter will read briefly from his book and answer questions submitted by participants.
The talk will take place on July 14 at 1 p.m. Mountain Time, 2 p.m. Central. For information on how to join the free webinar, please visit https://nnlm.gov/class/digital-doctor.
The event is part of the new NNLM Reading Club Presents… Series, which will feature periodic talks by authors of books related to health and health equity in an online setting.
For more details, see the flyer at this link: Digital_Dr_Flyer_July_2020