Spring 2020 #citeNLM Wikipedia Edit-a-thon is coming!
Posted in: #CC/Academic List, #Health Interest List, #Health Sciences List, #Public/K-12 List, All Members

---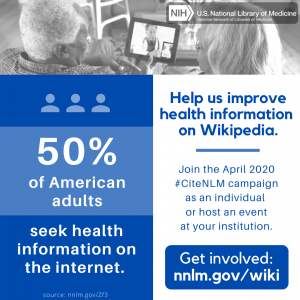 Wikipedia's health topics pages are visited a staggering 7 billion times a year, making it possibly the world's most popular health information resource. The objective of #citeNLM is to improve the credibility and content of medical and health-related articles on Wikipedia by adding citations and information from National Library of Medicine (NLM) sources
The spring #citeNLM campaign period will run from April 1-30, 2020. Host your own event during the campaign period or join us for our virtual #citeNLM Edit-a-thon on Thursday, April 30. Sign-up on our dashboard today to participate!