Tutorial Aids Consumers Signing Up for Health Insurance
Posted in: Blog

---
A new online tutorial that helps consumers sign up for health insurance is available from the Public Library Association just in time for the 2020 open enrollment period.
The course, Using Healthcare.gov to Enroll in Health Insurance, covers the basics of securing coverage through Healthcare.gov, the health insurance exchange website operated by the U.S. federal government.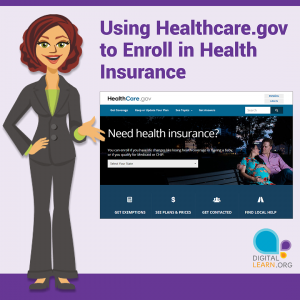 The 18-minute tutorial explores the processes of determining eligibility, preparing to enroll, creating an account, and finding local help to successfully enroll in an Affordable Care Act health insurance plan. It was created as part of PLA's Libraries Connecting You to Coverage initiative, a national partnership to assist uninsured consumers with ACA enrollment made possible by funding from the Robert Wood Johnson Foundation and Community Catalyst.
Open enrollment runs through Dec. 15 in states that use the Federal Marketplace Platform.
The tutorial can be accessed via DigitalLearn.org, PLA's free online digital literacy training curriculum designed to help people increase their digital skills. All 24 online courses on DigitalLearn.org are video-based with narration and captions, and written in plain language. The lessons were designed to be taken independently, anywhere and anytime, by learners, but can also be used by libraries and other community groups for one-on-one instruction and classroom teaching.