AHEAD Dashboard Enhances Functionality
---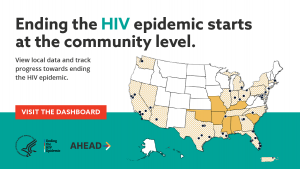 The U.S. Department of Health and Human Services recently released an enhanced version of the America's HIV Epidemic Analysis Dashboard (AHEAD) that increases functionality and ease of use. As a key component of HHS' Ending the HIV Epidemic (EHE) initiative, AHEAD visualizes data for six EHE HIV indicators that measure both local and national progress towards ending the U.S. HIV epidemic by 2030.
Stakeholder Input is Key to Development
Stakeholder feedback is critical to AHEAD. In developing this enhanced version, HHS met with and gathered input from multiple stakeholder groups, including representatives from EHE jurisdictions, local and state health departments, community-based organizations and national HIV organizations. Their input and feedback helped shape many of the updates that are on AHEAD today.