HIV Undetectable = Untransmittable (U=U)
---
"Today, people with HIV who get tested, receive care, and then remain in care, often become virally suppressed and live a long life. In addition, they cannot spread the disease to others. Today people can take one or two pills a day to achieve viral suppression." 1
These few sentences have an enormous positive impact on people living with HIV. NIH's National Institute of Allergy and Infectious Diseases (NIAID) reviewed decades of scientific evidence underlying the U=U, or treatment as prevention (TasP) concept. The article in the January 10, 2019 issue of the Journal of the American Medical Association explains the decades of clinical trials and research that went into the HIV Undetectable = Untransmittable (U=U) concept.
RW Eisinger, CW Dieffenbach, AS Fauci. HIV viral load and transmissibility of HIV infection: undetectable equals untransmittable. Journal of the American Medical Association DOI: 10.1001/jama.2018.21167 (2019). https://jamanetwork.com/journals/jama/fullarticle/2720997
The good news is a diagnosis of HIV is no longer a fatal diagnosis. HIV is a treatable chronic condition. However, remaining in treatment for a chronic disease is a challenge. It can be a challenge for people with HIV, just like it is a challenge for people with diabetes and heart disease.
Effort to End HIV Epidemic
The effort to End the HIV Epidemic is a federal initiative to reduce the number of new HIV infections in the United States by 75 percent within five years, and then by at least 90 percent within 10 years.  This will result in an estimated 250,000 total HIV infections averted.2 The CDC recommends everyone 13 to 64 years old get tested for HIV at least once as part of routine health care3. People at higher risk for HIV should get tested each year.
Most new HIV infections in the United States are highly concentrated in certain geographic hotspots. More than 50 percent of new HIV diagnoses in 2016 and 2017 occurred in 48 counties, Washington, DC, and San Juan, Puerto Rico. In addition, seven states have a disproportionate occurrence of HIV in rural areas. The Effort to End the HIV Epidemic will be accomplished by expanding the capacity in these 57 areas to improve patient care. (https://files.hiv.gov/s3fs-public/Ending-the-HIV-Epidemic-Counties-and-Territories.pdf). Many patients go to a local clinic for care without realizing the clinic is funded through a coalition of Federal, state, private, and local organizations. Geographic areas are encouraged to create integrated HIV prevention and care plans to provide a coordinated approach to HIV care for patients.
The HIV Care Continuum is a model that outlines the sequential steps or stages of HIV medical care, from initial diagnosis to achieving the goal of viral suppression (a very low level of HIV in the body). Approximately 15% of the people with HIV are not aware of their status. Coordinating care for each patient and keeping those patients in care is critical in reducing the number of new HIV infections. The first step is getting people tested to determine their status.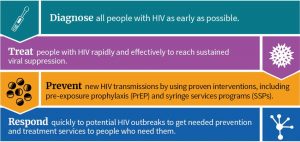 Unfortunately, patient engagement drops off at each step in the care continuum. Based on the chart below, only 30% of HIV positive people are virally suppressed and not a risk of infecting sexual partners. The goal is to get people diagnosed and in care as quickly as possible and help them remain in care.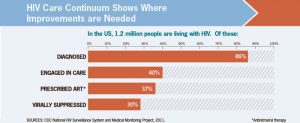 Learn more about viral suppression from the November 14, 2017 posting in National Institute of Allergy and Infectious Disease (NIAID) blog on 10 Things to Know About HIV Suppression.
As stated on the HIV.gov website, "today we have the tools available to end the HIV epidemic. Landmark biomedical and scientific research advances have led to the development of many successful HIV treatment regimens, prevention strategies, and improved care for persons living with HIV."4 For more information on the importance of getting testing or finding a location near you, visit the CDC web site. Get Tested!
---
1Glassman, P. (2019, December 1. Reflections on World AIDS Day [Blog post]. Retrieved from https://news.nnlm.gov/nacc/reflections-on-world-aids-day-december-1-2019/
2 https://www.hiv.gov/federal-response/ending-the-hiv-epidemic/overview
3https://www.cdc.gov/hiv/testing/index.html
4https://www.hiv.gov/federal-response/ending-the-hiv-epidemic/overview