Reflections on World AIDS Day – December 1, 2019
---
World AIDS Day was first observed on December 1, 1998. Each year, organizations and individuals across the world bring attention to the HIV epidemic, increase HIV awareness, and work towards the goal of ending the HIV epidemic. It is inspiring to look back on the accomplishments achieved over the 21 years since the first World AIDS Day and sobering to realize there is so much more work to accomplish.
Today, people with HIV who get tested, receive care, and then remain in care, often become virally suppressed and live a long life. In addition, they cannot spread the disease to others. Today people can take one or two pills a day to achieve viral suppression.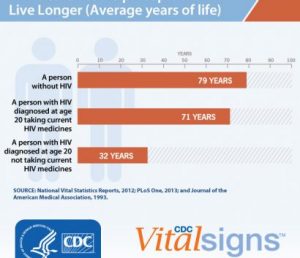 According to the CDC, everyone 13 to 64 years old should get tested for HIV at least once as part of routine health care. People at higher risk for HIV should get tested each year.
Use the CDC testing locator to find a location to get tested: https://gettested.cdc.gov/
The HIV care continuum outlines the sequential steps or stages of HIV medical care people living with HIV go through from initial diagnosis to achieving the goal of viral suppression (a very low level of HIV in the body), and shows the proportion of individuals living with HIV who are engaged at each stage.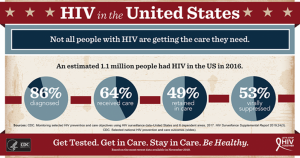 The NNLM Community Information Outreach Center (NACC) is a recent addition in the effort to end HIV. Visit the NACC website to learn about selected NIH and NLM HIV/AIDS information resources.
Please consider joining the National Network of Libraries of Medicine (NNLM), which is open to ACIOP awardees, community-based organizations, public health organizations, libraries, and other organizations working with people living with HIV. Stay connected with NACC to learn about upcoming training sessions, webinars, and other activities and "Continue the Conversation". Let's learn from each other about innovative approaches to health information outreach to the HIV community.
Stay connected!