DOCLINE 6.0 is NOW ONLINE!
Posted by Erin Latta on January 24th, 2019 Posted in: News

---
DOCLINE libraries are invited to use the all-new DOCLINE to familiarize themselves with the website before Borrowing and Lending end in the legacy DOCLINE in early 2019.
Users can review and update their library profile information, including Lending offerings and Borrowing settings. Users are urged to review and update their Journal Holdings records to ensure accurate request routing in the future, after requesting ends in the legacy system.
---
DOCLINE 6.0 Web Address
https://newdocline.docline.gov
DOCLINE 6.0 FAQshttps://www.nlm.nih.gov/docline/faq.html
DOCLINE 6.0 Videos
SCHEDULE
Early 2019: DOCLINE Requesting to move to new system
November 2018: DOCLINE 6.0 Preview and Login testing   (Requesting continues in the existing system)
Once successful login is confirmed, continue using DOCLINE 6.0 to review and edit Library Profiles and Journal Holdings records.
October 3, 2018: Existing system data exported and imported into all new DOCLINE 6.0
Get Current News:
 Subscribe to DOCLINE Email Updates GovDelivery channel
Release Notes, DOCLINE Redesigned
DOCLINE 6.0
Webinars and DemosDOCLINE Talkline: Google Login & Linking – August 15th (recorded session)
DOCLINE Talkline: DOCLINE 6.0 Preview – July 25th (recorded session) – – (PPTX file, 3.6 MB)
MLA DOCLINE Updates
2018 – DOCLINE: Redesign release information and screenshots
Recording and slide deck
2017 – DOCLINE: Redesign announcement and plans
Recording and slide deck
DOCLINE-L Listserv Announcements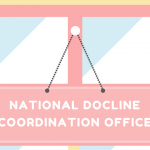 ABOUT Erin Latta
Email author Visit author's website View all posts by Erin Latta