The 30-minute April 29, 2020 DOCLINE Webinar is now posted.  It provides information on system statistics, a recent release recap, 2020 development plans and Q&A.
The recorded session and slides have been added to the DOCLINE system home page under webinars, and are also available from NLM's Learning Resources database and the National DOCLINE Coordination Office website.
After viewing the recorded session, please complete the short webinar evaluation.
---
Additional Questions and Answers
Q: When will I be able to access my Request Activity Report (Lending & Borrowing) for the entire year 2019?  When will Annual Reports be available?
A:  Although a firm date is not set, The National Library of Medicine (NLM) plans to provide more request statistics reports in addition to the soon to be released "Journal Requests by Title" reports.
Q: Is it possible to add a box to provide text (optional) to explain why "Other" was selected [as a Lender Reject Reason]? 
A:  Because a Lender no longer has permission to view a request after rejecting it, we suggest Lenders wanting to provide specific information to the borrower about their Request rejection use the Contact Library feature before rejecting the request.
Q(a): Why do requests go directly to MDUNLM when there are other active libraries with holdings?
Q(b): Starting with Docline 6.x, quite a few requests go to libraries listed as "Active", but which are never received.  Is there a way to assure these libraries are indeed active?
A: Request Routing is sequential. Since the "Route to Resource Libraries" option is no longer available, requests that previously routed to approximately 150 large Resource Libraries before routing to NLM no longer do so. 
This may mean that more requests route beyond NLM to "All Other Libraries".  If Lenders regularly fail to take action on requests and do not respond to "Contact Library" emails, please alert the National DOCLINE Coordination office.
Q: When will batch uploading of serials be available?
A: Batch uploading of serials is not currently scheduled.  Other requested features such as LocatorPlus' replacement and monograph ordering are expected to be implemented first. 
Q: What happened to the list of Groups?
A: There is a list of Library Lending Group memberships in each Library Profile under Lend Information.   In addition, Borrowers' Library Group membership appears on request receipts.  The "Limit to these Library Groups" filter in Journals Holdings Search provides a complete list of all available Library Groups.
Q: Will there be a feature added for electronic delivery within DOCLINE? (Similar to Article Exchange)
A: The National Network of Libraries of Medicine (NNLM) offers NNLM Delivery, similar to Article Exchange, but external to DOCLINE. Any NNLM member library may use this delivery mechanism. DOCLINE is a request routing system — a delivery feature is beyond its scope.
Q: Can "Print Resources Available" and Libraries' open status be added to Filter options on Journal search ASAP?
A:  Because DOCLINE best practices call for relying on routing tables to find lenders, and using Journals search for Journals maintenance activities, no additional functionality to Journals search is currently on the development schedule.
Q: Is the statistic for how many institutions are enrolled in EFTS  available?
A: Please contact the Medical Library Association (MLA), who will be administering the new Electronic Funds Transfer Service (EFTS).  NLM will administer only the request transaction data and its transmittal to EFTS2.
Q: Will libraries be able to search for materials with OCLC numbers?
A: Searching by OCLC number is already available in Journals search and Journal Unique ID ordering.   OCLC number as an available retrieval term for book (monograph) ordering is being considered.
Q: Can E-Book be added to the Format selections?
A:  Book ordering is planned but will not be format-based since DOCLINE does not include member library monograph holdings records to match requested format to.
Q: Can fill from e-journal be set as default [for borrowers' Fill from Format]?
A: The default from 'Any' format will not be changed at this time. More than half of all holdings remain non-electronic (Print, and Other which includes any kind of microform, etc.).  In addition, physical access to collections is expected to be widely restored.
Q: Can lenders please add their 6 letter IDs to any emails sent with articles?  Especially if you aren't sending the DOCLINE sheet.
A: As a Lender, this is a good best practice to follow.
Q: Any thoughts of using a DOI in the future for placing a request if no PMID?
A: This is not currently scheduled for development, but it is on our list of user requested features.
Q: Can borrowers see reject reasons?  How?
A:  To see the entire routing history of their requests, including lender reject reasons, Borrowers can use the Show Request History button that appears on each request record in Borrow Search results.
Q: I have received Rush requests after I close.  By morning, the requests are gone because it has been more than 4 hours.  Is there anyway Rush requests could bypass libraries during the hours they are not listed as open?
A: Time-based routing remains problematic. For example, if requests route only to open libraries, what will the East coast libraries do in the morning if there are no ILL requests from the prior evening?   Further, no library would be available for requests at Midnight, when Time-Triggered Actions re-routes requests that have not been acted upon.
Q: Please consider sending an alert to a borrower whose request is rejected for *COST to give the borrower the option/opportunity to increase the amount rather than the request being cancelled and having to resubmit. [similar to OCLC conditional response]
A: The Contact Library feature can be used if a Lender wants to check if the Borrower is willing to increase their MaxCost. Based on recommended DOCLINE Routing Tables structure with higher cost lenders in higher numbered cells, COST will continue to end routing, since requests will only route to higher cost lenders.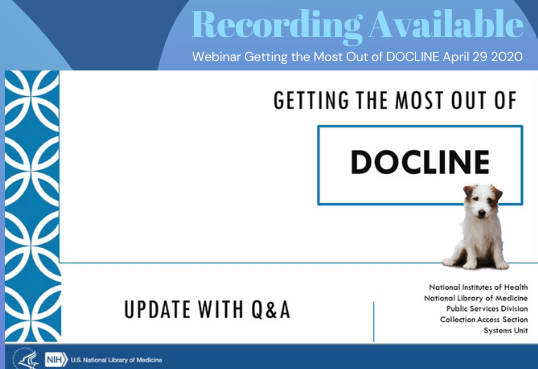 ---