DOCLINE Reminder | EFTS participation changes coming!
Posted by Erin Latta on June 23rd, 2020 Posted in: News

---
EFTS status updates July 1, 2020
If you are not signed up with MLA and your library uses EFTS,  your operations will be disrupted after June 30.
June 30: All existing EFTS libraries must act on or before June 30 to access DOCLINE request billing data, regardless of future EFTS participation. Be sure to capture requests for libraries that will no longer participate in EFTS, or before the EFTS Report menu option is hidden due to changed participation status.
July 1: DOCLINE resets all EFTS Participant Indicators to reflect participation in MLA EFTS platform.
The complete timeline for the EFTS transition is available here.
---
Please refer to MLA EFTS and UCONN EFTS with your questions about your EFTS account(s).
---
◊
Questions about DOCLINE? See the DOCLINE System home page for quick tour videos, FAQs and more. 
Contact your Coordinator for help using the system.
Write to the Help Desk with feedback or to report technical issues.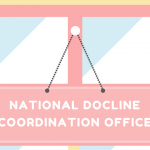 ABOUT Erin Latta
Email author Visit author's website View all posts by Erin Latta