4,000+ free diagram templates
Posted by Cindy Olney on April 28th, 2014 Posted in: Practical Evaluation

---
"If people can see what you're saying, they'll understand it."  This quote comes from the Perspectives page of Duarte.com, which now offers a free Diagrammer that provides more than 4,000 free, downloadable diagram templates to help you present your evaluation findings visually.
A handy directory helps you determine the type of diagram you need based on the data relationships you want to portray. You then choose a diagram and download it into a PowerPoint-ready image that is completely customizable. You add text, change font size and color, even move or eliminate parts of the diagram. The PowerPoint slide can be inserted into a slide file for an oral presentation or saved as an image and inserted into a written evaluation report.
I tried my hand at creating a diagram to show how NN/LM train-the-trainer programs encourage the spread of health information resource use. This is what I came up with: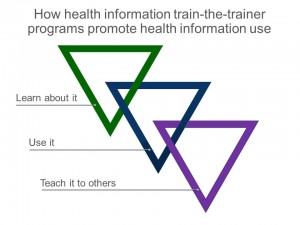 I learned about this tool  from an AEA365 blog post by Sheila Robinson. As an example, she included an infographic she designed using the Diagrammer to illustrate American Evaluation Association learning opportunities.
Duarte.com is the company of Nancy Duarte, a master presentation designer who has become a favorite among evaluators on a mission to get their evaluation reports understood and used. If you are interested in punching up the impact of your presentations, you also might want to check out her book "Resonate" (2010, Wiley & Sons) or watch her popular TEDtalk The Secret Structure of Great Talks. Many of her principals can be applied to oral or written presentations.

ABOUT Cindy Olney
Cindy Olney is the Assistant Director of the NNLM Evaluation Office. She leads NNLM's evaluation efforts, designs evaluation methods, and guides analysis and reporting of evaluation findings.
Email author View all posts by Cindy Olney