How to use Hashtags to Increase Social Media Presence
Posted by Nikki Dettmar on May 30th, 2014 Posted in: News

---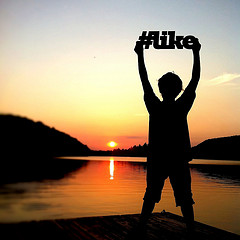 like 2 by misspixels on Flickr, Creative Commons license
Have you determined that the use of social media channels is appropriate for your organization following our coverage of evaluating social media activities last week?
If so you will quickly encounter hashtags, which are user-controlled categories prefaced with a pound sign. Hashtags were once limited to Twitter but are now used on most social media sites including Facebook and Google+. Conversational,  concise, and consistent use of up to two hashtags per social media message can result in double the amount of user engagement compared to messages without them. For more statistics specific to Twitter and user engagement, Buffer's coverage at http://blog.bufferapp.com/10-new-twitter-stats-twitter-statistics-to-help-you-reach-your-followers is an excellent overview.
What are some of the ways to show that hashtags increase user engagement with your organization's message? Look for performance indicators of reposts (the use of 'Share' on Facebook or retweets on Twitter), replies (comments under the message from Facebook followers, replies to the tweet from Twitter users), the number of clicks to any links included in your message (ideally to your organization's website and resources), and hashtag usage frequency.
For tips on how to track these performance indicators and additional statistics regarding hashtag creation and use check out the helpful infographic at http://www.digitalinformationworld.com/2014/04/using-hashtags-to-boost-your-social-presence-infographic.html.
ABOUT Nikki Dettmar
Email author Visit author's website View all posts by Nikki Dettmar