Freebie Friday: American Evaluation Association Online Public Library
Posted by Nikki Dettmar on June 20th, 2014 Posted in: Practical Evaluation

---
As we at the Outreach Evaluation Resource Center (OERC) learn more about great evaluation resources available at an even better price (free!) in addition to our own freely available resources, we will feature some of them here for you to explore on 'Freebie Friday' as an occasional series.
To begin our coverage, did you know the American Evaluation Association (AEA) has an online public library of AEA conference presentations, assessment instruments (such as rubrics and logic models), and more available at http://comm.eval.org/communities/resources/libraryview/? The default library setting displays those files most recently updated in the online library and offers keyword searching, but I recommend going straight to the more advanced search functionality at http://comm.eval.org/communities/resources/searchlibrary/.
Once you are at the advanced search screen, click on the 'Search for specific keywords and tags' and a dropdown menu appears. You will find information by AEA conference and institute date and topic interest group (TIG) category as shown per the screenshot below: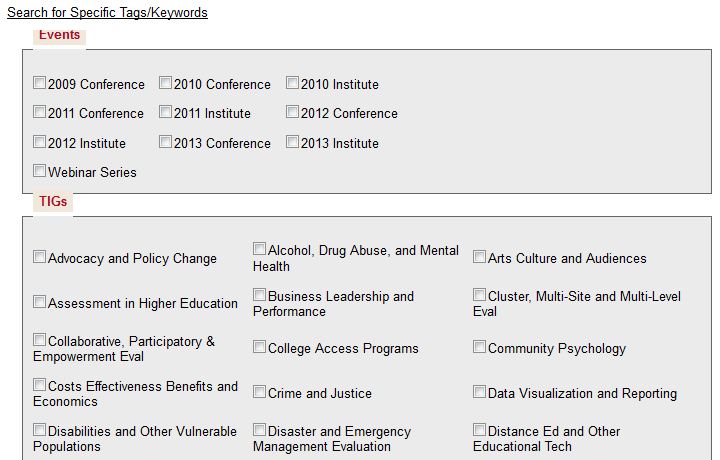 There are many additional TIGs in the search screen categories that are of interest to National Network of Libraries of Medicine (NN/LM) members including Health Evaluation, Disaster and Emergency Health Evaluation, Integrating Technology in Evaluation, Needs Assessment, and Non-Profits and Foundations Evaluation to name a few.
Some recent resources of interest in the AEA library in the Health Evaluation TIG category include Informing the Transformation of a System: Evaluating Health Reform (related to a hospital re-admissions reduction program and the implementation of an Accountable Care Organization in California), Using Social Media Data to Evaluate Community Obesity Prevention Initiatives, and Framing, Designing, and Conducting Health Policy Evaluation Thoughtfully and Within Budget.
Note: Link updated 9/20/2017.
ABOUT Nikki Dettmar
Email author Visit author's website View all posts by Nikki Dettmar