Some Great Examples of Library Dashboards
Posted by Cindy Olney on August 22nd, 2014 Posted in: News

---
At the Library Assessment Conference in August, one panel featured assessment librarians presenting data dashboards they created using Tableau software. Our colleagues often ask OERC staff  for good examples of library dashboards, so I am excited that the PowerPoint slides of Tableau Unleashed: Visualizing Library Data are publicly available . This document includes views of dashboards from University of British Columbia Library (by presenter Jeremy Buhler), UMass Amherst Libraries (by Rachel Lewellen) and Ohio State Libraries (by Sarah Murphy). All of the presenters used Tableau software to produce their dashboards.
Tableau may be the most popular software for creating dashboards right now and the company offers a free version that has a great deal of functionality. In fact, at least one presenter (Sarah Murphy) included dashboards she created using Tableau Public. However, users must be cautioned that any data entered into Tableau Public become public information.  That means anyone can see and download your raw data. So, if you use it, be sure all identifying information about individuals is stripped from your files and that you are comfortable with other people downloading your raw data.
The presenters included some tips for dashboard design, which you will find in their slides.  If you want more comprehensive guidance, check out A Guide to Creating Dashboards People Love to Use by Juice Analytics. The guide is free and downloadable.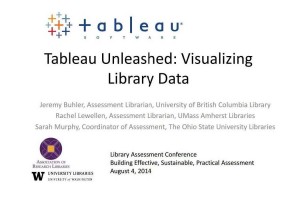 ABOUT Cindy Olney
Cindy Olney is the Assistant Director of the NNLM Evaluation Office. She leads NNLM's evaluation efforts, designs evaluation methods, and guides analysis and reporting of evaluation findings.
Email author View all posts by Cindy Olney