New OERC Webinar: Eval 2.0
Posted by Cindy Olney on August 30th, 2014 Posted in: News

---
The OERC debuted a brand new webinar for the NN/LM Greater Midwest Region's monthly Lake Effects webinar series on August 21. The new webinar, Evaluation 2.0: Trends, New Ideas, Cool Tools, presents emerging trends in evaluation practice that emphasize stakeholder interaction and social engagement. It also covers popular tools and methods that allow you to draw others into the evaluation process and raise the visibility of your program or services. The NN/LM GMR makes recordings of Lake Effects presentations publicly available, so click here to listened to the  Eval 2.0 webinar.
If you are interested in attending a live presentation of this webinar, please contact the OERC or your National Network of Libraries of Medicine regional office. Descriptions of other  OERC webinars that can be offered upon request are listed here.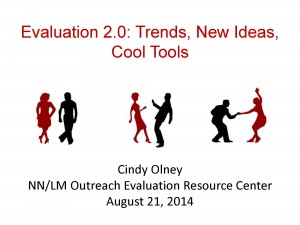 ABOUT Cindy Olney
Cindy Olney is the Assistant Director of the NNLM Evaluation Office. She leads NNLM's evaluation efforts, designs evaluation methods, and guides analysis and reporting of evaluation findings.
Email author View all posts by Cindy Olney