Shop Talk SWOT Hack for Proposal Writers
Posted by nnlmneo on August 19th, 2016 Posted in: Participatory Evaluation, Practical Evaluation

---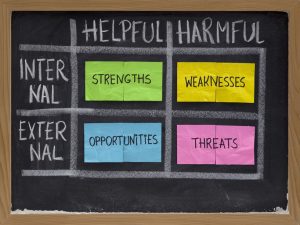 Every self-respecting workshop has its share of hacks. Today's post is about the NEO Shop Talk's SWOT hack.
Most of our readers have heard of SWOT analysis, because of its widespread use in strategic planning. NEO developed its own special version of SWOT analysis to help our readers and training participants with preparation of funding proposals.  Our version of SWOT analysis is one of a number of methods on the NEO's new resource page for proposal planning featured in last week's post.
"SWOT" stands for Strengths, Weaknesses, Opportunities, and Threats.  Businesses use SWOT analysis to examine their organizations' internal strengths and weaknesses, and to identify external opportunities and threats that may impact future success. Strategic plans are then designed to exploit the positive factors and manage the negative factors identified in the analysis.
SWOT analysis can be a great proposal-planning tool. After all, funding proposal are essentially strategic plans. The analysis will prepare you to write a plan that describes the following:
Your organization's unique ability to meet the needs of your primary project beneficiaries (Strengths)
The weaknesses in your organization that you hope to address through the funding requested in your proposal. (Weaknesses)
Resources external to your organization that you have discovered and can leverage for project success, such as experts, partners, or technology.(Opportunities)
Potential challenges you have identified and your contingency plan for addressing them, should they arise. (Threats)
Funding proposal do differ in one key way from organizational strategic plans: they are persuasive in nature. Your proposal must argue convincingly that an initiative is needed. It must also demonstrate your organization's readiness to address that need. To make your arguments credible, you will need data, and you get that data from a community assessment. (I use the word "community" for any group that you want to serve through your project.) The NEO has tweaked the SWOT analysis process so that it can serve as the first step in the community assessment process.
Every SWOT analysis uses a chart.  We altered the traditional SWOT chart a bit, adding a third column.  In that column, you can record questions that arise during your SWOT discussion to be explored in your community assessment. Our chart looks like this: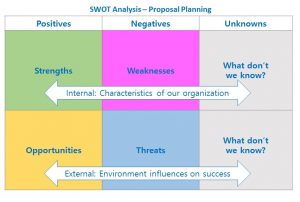 Here are the basic steps we suggest for facilitating a SWOT discussion:
Convene a SWOT team. Ideally, representatives' expertise and experience will lead to a thorough understanding of the internal and external factors that can impact your project. You want team members who know your organization well and those who know the beneficiary community well.  It's great if you can find people who know both, such as key informants who belong to the beneficiary group and also use the services of your library or organization.
Ask the group to brainstorm ideas for each of the six squares in the chart above. To record group input, facilitators favor poster-size SWOT charts pinned to the wall and stacks of sticky pads that allow team members to add their ideas to each square.
Once you have exhausted the discussion about the six squares, you now want to see if you have evidence to support the facts and ideas. Examine each idea on the chart, asking the following questions: (a) What source of information exists to support our claims about the identified strengths, weaknesses, opportunities and threats? If you have no real evidence for an idea, it may need to be moved to an "unknown" square (b) How important is it that we include this claim in our proposal (c) If we do need to include it, is our data credible enough to support our claim? It it's weak, how can we get more persuasive data or additional corroborating information?
Now, work with your "unknowns." How can you educate yourself about those gray areas? What data sources and methods can you use?
At this point, you now know where to focus your community assessment efforts. Your last step is to make a community assessment plan. Assign tasks to team members and determine a data collection timeline.
Once you have collected your data, your core project team can revisit the SWOT chart. Your community assessment findings should fit neatly into the four SWOT squares and, hopefully, you will have far fewer "unknowns." Some of your community assessment findings will help you build your rationale for your project. Other information will help you refine your project strategies, which you will work out using another great planning tool from our proposal-planning page: the logic model.  For a group project-planning process, check out the NEO post on tearless logic models.
Save
ABOUT nnlmneo
Email author View all posts by nnlmneo