Holiday Outcome Planning with Nat King Cole
Posted by nnlmneo on December 16th, 2016 Posted in: Logic Models

---
The holidays can be very stressful. Last minute shopping, traffic, traveling, and talking politics — it's clearly time to focus on the outcomes we want to see for the holidays, and how we are going to reach them. For help with my planning, I looked to what I think of as the greatest Christmas song of the season, The Christmas Song, most famously sung by Nat King Cole.
Here's the song in logic model format (I suggest listening to the song at the same time as you read the logic model https://www.youtube.com/watch?v=hwacxSnc4tI):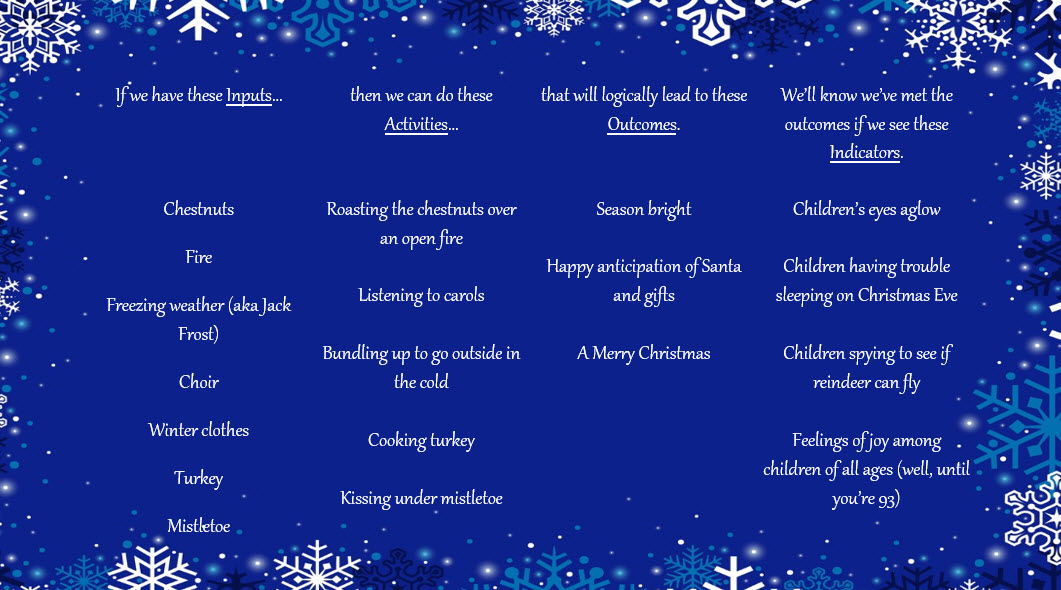 As with so many things in the holiday season, this song doesn't really reflect my reality in Gulf Coast Texas (although we do get mistletoe–I had it growing on my oak tree a couple of years ago).  Working from similar outcomes backwards, here's a different logic model that only applies to me: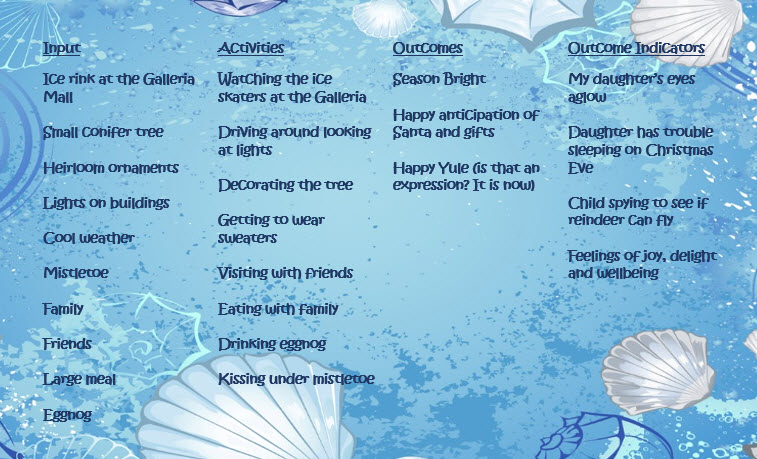 No, I will not attempt to turn it into a song, and you're even luckier that I'm not going to sing it for you.  But this little process has been really helpful for me in keeping things in perspective for the next couple of weeks.
Thanks Nat King Cole, Bob Wells, and Mel Tormé for a great song and a great planning tool.  What would yours look like?
For more on logic models, select the blog's Logic Model category, and check out the NEO's Booklet 2: Planning Outcomes-Based Outreach Projects
ABOUT nnlmneo
Email author View all posts by nnlmneo