My First Logic Model Experience
Posted by nnlmneo on September 29th, 2017 Posted in: Logic Models, Practical Evaluation

---
This past Wednesday Karen and Cindy held a logic model workshop, which included crafting outcomes, for NNLM staff. Most people probably did not know that it was the first time I worked with a logic model! Here are a few of my takeaways about logic models and writing outcomes:
You don't have to come up with outcomes out of thin air.
Thinking of theories such as the Diffusion of Innovation and the Kirkpatrick Model can help you write out your outcomes.
In logic models, outcomes are about someone or something else.
Karen suggested to "think in the 3rd person," and not to write sentences with a first-person subject. In the logic model above, the short-term and intermediate outcomes describe what the participating librarians do. In the long-term outcomes, the logic model describes what happens to the public and to the library. Activities are what you do; outcomes are what the participants do.
If you don't have any control over something, it's probably an outcome.
Cindy pointed out that many people do not like committing to outcomes because they cannot fully control the success or failure of it. We cannot control if our fictional public librarian program in St. Louis will lead to 99% of library staff starting at MedlinePlus when they have a health question, but it's something that our program could strive to do.
You don't have to measure every single outcome.
Why would you write down a hard-to-measure outcome? It details the why of a program. Why is it important to teach librarians how to use MedlinePlus? Why should librarians use MedlinePlus to help with reference questions? Librarians should be taught how to use MedlinePlus because it will "improve health literacy in the public with more reliable health information." Having the end in mind will help steer the program to success. There's a reason why we love using the Yogi Berra quote "If you don't know where you're going, you might not get there," it's true!
Logic models can be used for many things.
Logic models are not made for just evaluation planning. Inputs can help an organization figure out a program's budget. Brainstorming external factors can lead to potential supporters, or reveal barriers. Here's the chart from the workshop's PowerPoint: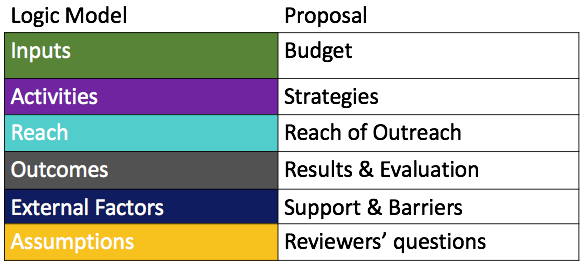 This was my first logic model workshop, but it's not my last. I am signed up for the half-day workshop Logic Models for Program Evaluation and Planning during the American Evaluation Association's Eval17 conference in November. See you there!
ABOUT nnlmneo
Email author View all posts by nnlmneo